Opinion: Stop obsessing over the "likability" of Elizabeth Warren and every other female politician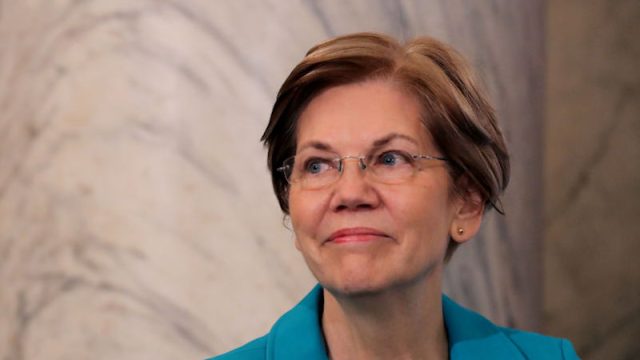 Author Michael Arceneaux discusses Elizabeth Warren's presidential bid and the media's sexist obsession with the "likability" of  female political candidates.

Speaking about reproductive rights at Barnard College in New York on Monday, January 7th, Hillary Clinton tackled a subject all too familiar to her throughout her historic 2016 presidential campaign. "There's been a lot of talk recently about whether our country is ready for women leaders," Clinton remarked. "Now, that really takes me back…I know many of you and can attest as to how smart, determined… and, dare I say, likable you all are."
Clinton's quip was related to the asinine assessment of a another female presidential contender's "likability"—this time Massachusetts Senator Elizabeth Warren—by way of the Politico piece, "How does Elizabeth Warren avoid a Clinton redux—written off as too unlikable before her campaign gets off the ground?" Although the piece itself highlights how Warren is not dealing with the same issues as Clinton and how the question itself is sexist, for Politico to even engage in this narrative further perpetuates the double standard.
There are reasons to criticize Warren, who announced a presidential exploratory committee in late December. I don't think it was wrong to question Warren's decision to release DNA testing confirming her indigenous lineage. Many of the white reporters and pundits who dismissed the recent New York Times article discussing that controversy did so out of their ignorance. Astead W. Herndon, the Black political reporter who penned the piece, explained the politics of the science Warren used to clear a potential campaign hurdle. Herndon writes that Warren "unintentionally made a bigger mistake in treading too far into the fraught area of racial science—a field that has, at times, been used to justify the subjugation of racial minorities and Native Americans."
Warren's campaign has already displayed a heightened awareness to the role that racism plays in economic inequality, but she nonetheless angered Native Americans and elicited rightful skepticism from other racial minorities who understand that, with a DNA test, she unintentionally stoked the belief that race is determined by blood. And, as Herndon explains, that ideology is "a bedrock principle for white supremacists and others who believe in racial hierarchies."
It is fair to question Warren on her actions and policies, but deviating from those substantive points to instead ask silly questions about her "likability" is to wrongly dismiss her very serious campaign.
This is especially dangerous in a looming election that will arguably be more determinative of this country's future than any other in several decades. Warren is not any more "divisive" than the racist, sexist, xenophobic, lazy, cable news-obsessed carnival barker currently half-assing it in the White House. Nor is Warren any more or less "divisive" or "unlikable" than her other male political counterparts.
What a pity it is for lazy journalists to fall into this sexist trope. It's unfair that Warren, along with other Democratic women who may be considering a bid for the presidency—including Senators Kamala Harris of California and Kirsten Gillibrand of New York—will likely have to contend with such coverage and male politicians will not. Likewise, it's frustrating to see that of the two folks who drew the most buzz for their respective campaigns—Beto O'Rourke and Stacey Abrams, respectively—only one of them is really getting attention over a prospective presidential bid.
Failed 2016 Democratic presidential candidate Martin O'Malley said he will not run again, but he hopes O'Rourke will. One imagines that he believes a white male politician is our best chance at defeating Donald Trump in the next election, like many do. And one assumes that is exactly why former Vice President Joe Biden perceives himself to be the Democrats' best hope in 2020.
Biden may be a beloved figure within the Democratic Party, and yes, he may appeal to certain voters with biases related to race and gender. But anyone who recalls Biden's history with presidential campaigns—accusations of plagiarism, criticism over his description of then-candidate Barack Obama as the first "clean" Black presidential contender—knows what a dubious assertion it is to call him our "best hope." Not to mention, the white male savior sentiment is rooted in this odd feeling that Trump is far more invincible than he has ever proven to be.
No, Clinton was not the most popular figure. And while there were plenty of reasons to criticize both Hillary Clinton and her husband, some of that resentment was certainly informed by sexist media coverage. The very kind Warren is now being subjected to. The kind other female presidential candidates will be subjected to.
Meanwhile, Trump won with the assistance of a hostile foreign government employing trickery that several tech companies were unwilling to properly police, an entire conservative media complex serving as a propaganda wing, a for-profit media that collectively failed at its coverage, and a sanctimonious FBI agent who should have kept his October letter-writing habit to himself.
And still, Clinton had three more million votes than Trump —a testament to both her actual likability and a racist electoral college. But please, tell me more about the importance of Warren's "likability."
"Likability" mattered so much when Nancy Pelosi was made into a boogeywoman for the umpteenth time in last year's midterm elections—and she still got elected as Speaker of the House in January.
Bottom line, if male candidates were treated the way women candidates are, a lot of them would be deemed less likable and more divisive, too. And with that, their chances of enjoying success in their electoral ambitions would be greatly diminished.
If only.
Michael Arceneaux is the New York Times bestselling author of the recently released book I Can't Date Jesus from Atria Books/Simon & Schuster. His work has appeared in the New York Times, Washington Post, Rolling Stone, Essence, The Guardian, Mic, and more. Follow him on Twitter.