Stop everything: There's a behind-the-scenes featurette of New Kids on the Block on "Fuller House"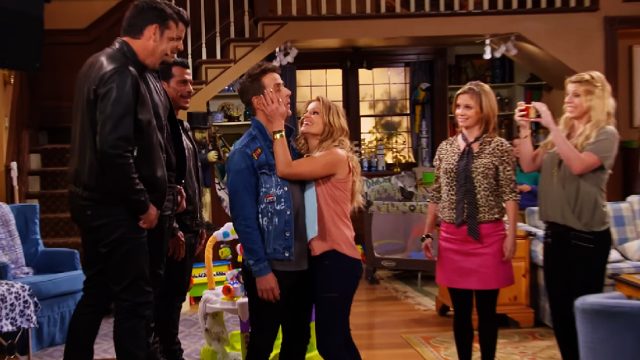 If you haven't binge-watched the show's second season yet, you don't know what you're missing. But by now, you've probably heard that New Kids on the Block appeared on Fuller House (minus Donnie, sadly) and were pretty incredible. In fact, not only did they have multiple scenes, but they helped provide some of the biggest laughs.
So, of course we wanted to see more. And luckily, Netflix delivered.
The company recently released a behind the scenes featurette of the band hanging on the Fuller House set, and it looks like they totally had a blast. Does that mean that they'd be down for a third season? Or, maybe their own show? We can only hope. https://www.youtube.com/watch?v=EM9p4VpaCeE
According to Andrea Barber (best known as Kimmy Gibbler) the cast and crew has been wanting to work with the New Kids for thirty years. We definitely believe it!
"We've been on their radar, and they've wanted us here so bad," Jonathan Knight said with a smile. "It's so cool that we finally were able to do it."
Of course, their appearance was a huge hit.
"I've never hear the audience scream so loud as they did when they walked in the door," Barber said.
The video also revealed that Barber and real-life buddy Candace Cameron Bure go to NKOTB concerts together all the time, which is… well, simply put, the best.
Bure made note that the New Kids episode was definitely her favorite of Season 2. Honestly, it was probably ours, too!
We're so happy that the cameo went just as planned, and the girls finally had their big dream come true!