Stop everything, the first footage from "Avengers: Infinity War" is here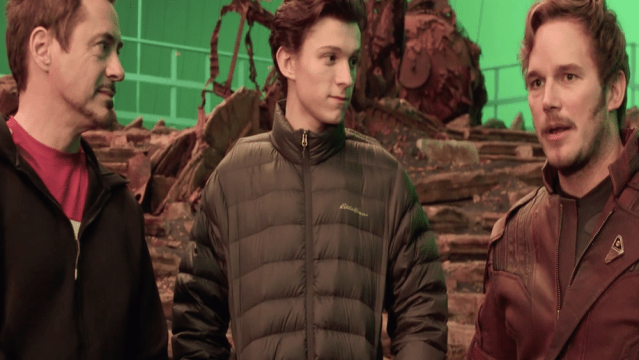 Though it is still a solid year away, Marvel has just dropped the first little tease as to what we can expect when Avengers: Infinity War hits screens ~sometime~ in 2018. You might want to sit down for this, because this is BIG. Two words for you. Okay, actually five words: Avengers + Guardians of the Galaxy.
Okay, fine, six words: Avengers + Guardians of the Galaxy + Spider-Man.
That means we're going to see see all our favorite Avengers, AND Chris Pratt, AND our friendly, neighborhood Spider-Man all in the same place, in the same movie. It's a good thing the movie is a year away, because we're going to need that long to prepare our hearts.
While everyone's involvement has been teased for a while, late Friday afternoon Robert Downy Jr. did a Facebook Live from the set of Infinity War, which is currently shooting at Pinewood Studios. He bantered back and forth with his "cameraman" (aka, Tom Holland), and shortly after that Chris Pratt waltzed into the scene, too.
Meanwhile, Marvel was prepping their own video, which teases exactly what Infinity War is going to be about. This motely crew of superheroes is going to try and save the world universe, duh. Would you expect anything else from them?
Everything in the Marvel universe — starting with Iron Man way back when — has been building to this, and now we're going to see it all come to a head, especially since it's going to involve those pesky Infinity Stones. The set RDJ, Chris, and Tom are all standing on appears to be part of Thanos' lair (that we saw in Guardians of the Galaxy, and quickly in Thor). It looks like the place is destroyed — and whether or not our Avengers & Co. did it remains to be seen.
We've still got a long wait for Avengers: Infinity War, but at least we have this to hold us over for now. Somewhere, deep inside Pinewood Studios, our favorite superheroes are teaming up to save the day (or, at least try really hard to).