You can virtually join Stonehenge's summer solstice celebration for free—for the first time ever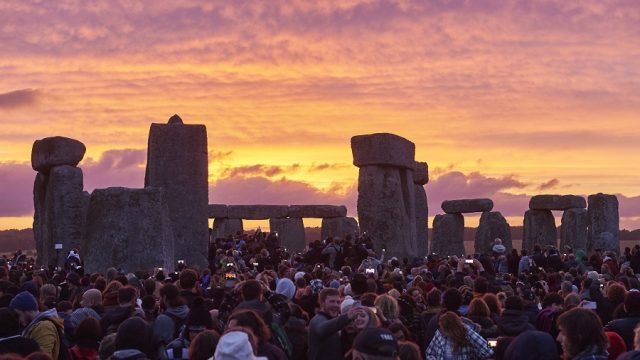 With Mother's Day, graduation ceremonies, and countless birthdays taking place during quarantine, we've all gotten pretty used to virtual celebrations at this point. One special occasion you may not have been making digital plans for, though, is summer solstice—but we're here to tell you why you absolutely should.
In typical years, thousands of people travel to Stonehenge in Witshire, England, and camp overnight to watch the sun rise over the stones and celebrate the longest day of the year. This year, historically atypical in every way, the coronavirus (COVID-19) pandemic has made it unsafe for this physical gathering to take place. So, English Heritage, a charity that manages Stonehenge along with hundreds of other historic sites, has made plans to host the event virtually instead.
On June 20th, the organization will live stream the summer solstice, so that people can still take part in the festivities from afar.
"We hope that our [livestream] offers an alternative opportunity for people near and far to connect with this spiritual place at such a special time of year and we look forward to welcoming everyone back next year," Stonehenge director Nichola Tasker told the Salisbury Journal.
In a tweet, the organization explained that they spoke with emergency services, the druid and pagan community, and others before making the decision to cancel the in-person event.
On its site, English Heritage explains why Stonehenge is the designated place for these summer solstice celebrations.
The stones, which were erected in around 2500 BC, "were carefully aligned to line up with the movements of the sun." Archaeological excavations have found that the original placement of the stones was designed to mark the sunrise, sunset, and frame the solstice axis. "The whole layout of Stonehenge is therefore positioned in relation to the solstices, or the extreme limits of the sun's movement," the website reads.
The summer solstice celebrations at Stonehenge are a sacred pagan event for many, and the cancelation of the gathering comes with a strong sense of grief. English Heritage understands this but urges people to focus on staying home and staying safe this year. "We know how strong the draw to come is for some people, but I would take this opportunity to say please do not travel to Stonehenge this summer solstice, but watch it online instead," Tasker told the Salisbury Journal.
You can watch the live-stream from sunset on June 20th to sunrise on June 21st over at English Heritage's Facebook page here.
As information about the coronavirus pandemic rapidly changes, HelloGiggles is committed to providing accurate and helpful coverage to our readers. As such, some of the information in this story may have changed after publication. For the latest on COVID-19, we encourage you to use online resources from CDC, WHO, and local public health departments, and visit our coronavirus hub.