Waiting for that $1,200 stimulus check? Here's how to check your payment status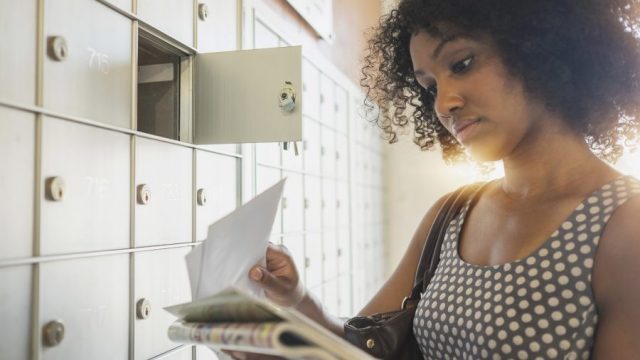 Right now is an especially uneasy time for most Americans. From working from home and potentially dealing with work hours being cut to seeking out hazard pay to filing for unemployment, our daily lives (and regular finances) have dramatically changed. Many people are struggling to pay their bills. That's why the government passed a $2 trillion stimulus package as an effort to help Americans whose lives have been deeply impacted by the effects of coronavirus (COVID-19).
The package is dubbed the Coronavirus Aid, Relief, and Security (CARES) Act, and you may have heard the buzz about people being issued what's known as a stimulus check. But who gets this stimulus money? How much is it? Most importantly, when will the checks come? Here's what you need to know about the 2020 stimulus package and what it means for you.
What is a stimulus check?
A stimulus check is simply a check that is sent to a taxpayer by the U.S. government. In this case, the stimulus checks issued by the CARES Act are designed to stimulate the economy by easing some of the financial burdens that have been placed on so many individuals and businesses. Basically, it's addressing the economic crisis that's been caused by the pandemic.
Mark Jaeger, director of tax development at TaxAct, explains to HelloGiggles that the stimulus check administered by the CARES Act is an advance of a refundable tax credit related to your 2020 income. "Because it's impossible to know everyone's total 2020 income at this point in the year, the Treasury is using prior year returns to determine a person's payment amount," he says. So how much you'll get will depend on your 2018 or 2019 tax returns (whichever was the most recent one filed). FYI: The deadline for filing your 2019 taxes has been extended to July 15th, 2020.
How much will the stimulus checks be?
Per the terms of the bill, the standard stimulus 2020 check will be $1,200. This amount will be paid to all American adults with social security numbers who make less than $75,000. Couples who file their taxes jointly will receive a check for $2,400, and every household with a qualifying child age 16 or under will receive an additional $500 per child.
Who is eligible for the stimulus money?
"All individuals who have a valid Social Security number qualify for the money except for any person(s) who can be claimed as a dependent on another individual's return," says Jaeger.
However, some people do not qualify. This includes high-income households without children, as single filers with incomes that exceed $99,000 are not covered by the stimulus plan. Additionally, teens who are 17 or 18 years old do not qualify for a check or for the additional $500 for their household, and many college students between the ages of 19 and 23 are also not eligible. If you are in this age bracket and can be claimed as dependent—even if you technically are not—you will not be eligible for payment.
When will the stimulus checks go out?
According to a statement made by Treasury Secretary Steven Mnuchin, Americans can expect checks from the historic $2 trillion stimulus bill to be direct deposited into their accounts within three weeks. According to CNN, though, there's a likelihood that distributing the money could actually take longer.
How will I receive my money?
Keep an eye out in the mail for a paper notice to alert you that your payment has been distributed. According to the bill, paper notices will be sent out no later than a few weeks after the payment has been disbursed. These will contain information about what form the money was sent (either mailed to you in a check or made as a direct deposit to your bank account).
Don't worry if you're not sure what account information the IRS has for you. According to its website, the organization has a portal where people can update their information to make sure the checks end up in the right place. You'll be able to keep tabs on your stimulus check through the Get My Payment web app, which recently launched on the IRS website.
Through the app, you'll be able to check on your payment status, confirm your payment type (whether it is direct deposit or physical check) and enter your bank account information for direct deposit if the IRS does not have it.
What happens if I get a "Payment Status Not Available" error on the Get My Payment App?
Since the web application for Americans to check their stimulus payment status launched, people have been flocking to the website to determine when (or if) their payment will be mailed or deposited. Since the first set of payments went out on Wednesday, April 15th, many were eager to know if they would be next.
However, after entering their information, some saw an error that said: Payment Status Not Available on the app.This means the agency could not determine your eligibility for a payment.
According to the IRS, this is not a glitch in the website. The organization says users may receive this message for one of the following reasons:
If you are not eligible for a payment.
If you are required to file a tax return and have not filed in tax year 2018 or 2019.
If you recently filed your return or provided information through Non-Filers. If this is the case, enter Your Payment Info on IRS.gov. Your payment status will be updated when processing is completed.
If you are a SSA or RRB Form 1099 recipient, SSI or VA benefit recipient—the IRS is working with your agency to issue your payment; your information is not available in the app yet.
The organization ensures that the app is updated once per day with more data, and that it is running smoothly.
Will stimulus checks get taxed?
Thankfully, Jaeger tells us that no, the money from the stimulus check is not considered a taxable part of your 2020 income (meaning you won't have to pay it back through taxes), and you are free to spend it as you please.
As information about the coronavirus pandemic rapidly changes, HelloGiggles is committed to providing accurate and helpful coverage to our readers. As such, some of the information in this story may have changed after publication. For the latest on COVID-19, we encourage you to use online resources from CDC, WHO, and local public health departments, and visit our coronavirus hub.