Why I still wear the t-shirt my ex gave me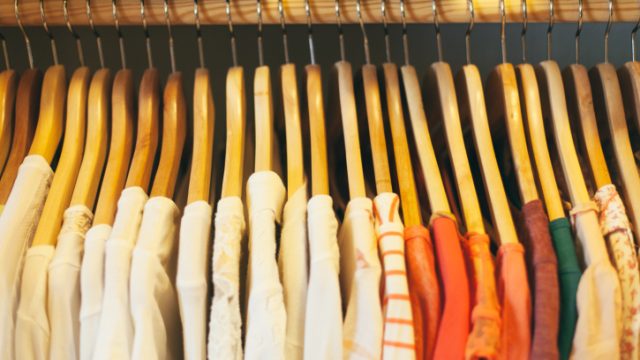 I have a confession to make: I still wear a t-shirt my ex gave me. It's not because it's so cute that I can't bear to give it up, even though it has his memory attached to it — it's a simple white t-shirt with faded out words printed on it. There's also no captivatingly rich or emotional story behind his gifting of this particular shirt. It was an old worn out shirt he outgrew, so he handed it down to me. But every once in a while, when I catch a glimpse of it in my closet, I can't resist putting it on.
When — let's call him Charles — ended things after a year of dating, I was a mess. He was the first guy I can say I really fell for. It wasn't love at first sight, or even love at first swipe. It was a gradual progression. A beautiful, slowly paced progression that honestly took me by surprise. We met on the Jewish version of tinder, aka Jswipe. He was one of the very first guys I matched with. Our first conversation was fun and light-hearted as we spent hours messaging back and forth on the app about all our favorite things. We discussed our favorite TV shows, movies, music, actors, and comedians. The favorite things segment went on and on, and I quickly learned we had very little in common other than our love for New Girl and Parks and Rec. However, after that, we didn't talk again. The conversation was one and done.
I continued to swipe away and went on a series of unsuccessful dates, ultimately deciding to take a break from dating apps. But after a year had passed, I gave Jswipe another go. Lo and behold, Charles popped up on my screen. I swiped right and we started chatting again, catching each other up on lost time. Eventually, we moved on to sporadically chatting on Facebook, where he attempted a couple times to schedule a coffee meet up. I was hesitant and politely declined. Even though I was becoming interested in him, I wasn't sure I was fully ready to enter back into the realm of dating.
Fast-forward to a couple months later, and I had built up the courage to ask for his number, even setting up a date to meet him at a local dog park. When the day finally arrived, I was excited, but nervous. I was playing fetch with my pup Shelby when he walked towards me wearing a Strike Anywhere t-shirt, khakis, and navy blue Vans. We immediately embraced. His piercing blue eyes and stubbly beard captured my attention.
There we were, the hip-hop/rap obsessed awkward introvert (me) and the punk rock, nerdy and smart ambivert with a dry sense of humor (him), chatting away. I have to be honest, I was pretty quiet at first — it takes me a while to warm up. But, I was a great listener, giggling away as he shared online dating stories, college stories, camp stories, and the wrath of unemployment we mutually shared at the time. The way he interacted with Shelby, his kindness to fellow dog park attendees, and his gentle approach in attempting to engage me into conversation allowed me to quickly transition into a state of comfort and ease. In fact, I grew so comfortable that I couldn't keep my hands to myself (cue Selena Gomez). I would pretend to accidentally bump into him, coyly put my arm around his shoulder or lean into him while sitting on the park bench type stuff.
And so our relationship grew from there. It was a rollercoaster of a relationship — we had ups, and we had downs. The thing was, we had way more ups than downs when I look back, and I remember our relationship fondly.
Much to my dismay, our relationship didn't work out. It was hard to come to terms with the fact that he had given up on us, because what we built was precious to me. I wanted to work out our differences, but I had to move on and accept that it was over. So, I did what I usually do when going through a breakup — I tried to get rid of anything and everything that would remind me of him. However, there was one thing I had forgotten to get rid of. Yep, it was the t-shirt. A few months after the breakup, I found it scrunched up between all of my University of Oregon shirts. The t-shirt brought back a ton of great memories from our endless phone conversations, our times spent at our favorite local bar, and our cook, cuddle, and TV-watching parties.
I decided to keep the shirt, and it began to not only serve as a representation of the memories. It developed into symbolizing my transformation into a stronger and braver woman. It's a reminder of how much my relationship and what has happened since has helped me learn to face my fears and stay calm in stressful situations.
Even though I didn't have a chance to work things out with him, I now carry with me so many valuable lessons that can guide me in all of my relationships from lovers to friends to family. I now understand how to better communicate to create mutual understanding, to be patient, to stay vulnerable, to trust, and to compromise.
When I wear the shirt from time to time, I am reminded of the power of love and its ability to help me grow into the best version of myself.