Stila Cosmetics is releasing The Glitter Underground, a disco-inspired collection for the '70s babe in all of us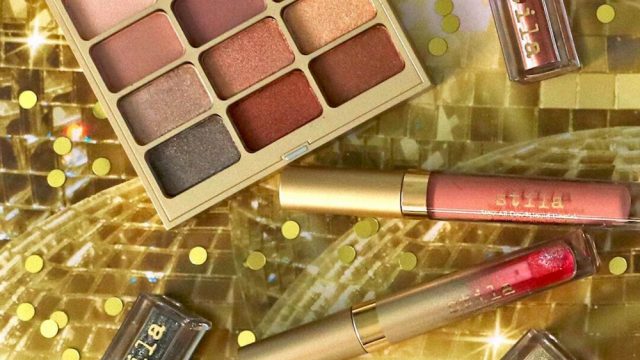 While it's true that we all took the glitter eye look around the block back when we were in junior high, it's back in a big way. Only this time, our fave brands like Stila Cosmetics have elevated the sparkle look by giving us high quality, elegant, and beautiful glitter products with their new Glitter Underground collection! We are falling deeply in love with two of their products, in particular, the Matte 'n' Metals shadows and the Glitter and Glow liquid eyeshadows. And if their social media is any indication, it looks like there is more to come in the near future!
Glitter is all the rage right now and with good reason, it brightens up any look and adds just the right amount of pizzazz without feeling like you're in costume. That's, of course, thanks to the amazing and versatile new products that are made for grown women who want to shine without looking like a glitter egg exploded on their heads!
We will never get over how stunning the Magnificent Metals Glitter & Glow Liquid Eye Shadows look. They're like tiny works of art in and of themselves! The secret is that they're equal parts pearlescent and glittery, so it looks balanced and classy.
There are 8 gorgeous different shades to choose from, and they're available for $24 each. There's Rose Gold Retro, a rose gold with silver sparkle. Kitten Karma, a champagne with silver and copper sparkle. Smoldering Satin, a deep tan with silver sparkle. Diamond Dust, a sheer silver with multi-color sparkle. Gold Goddess, a sheer antique gold with silver sparkle. Molten Midnight, a black with silvery gold sparkle, and Bronzed Bell, a bronze with silver and copper sparkle.
If you're more of a palette lover but still want to get in on that shimmery, glittery action then you need to take a look at Stila's Matte 'n Metal Eyeshadow Palette. For $49, you can get these twelve beautiful shades to mix-and-match to your heart's content.
There are six matte shades and six metallic shades to play with including: Vintage, a matte pale neutral pink. Velvet, a matte pale pink. Feathered, a matte pale sand. Fringe, a matte light taupe. Suede, a matte mid-tone warm pink. Velour, a matte mid-tone warm tan. Bohemian, a metallic light pewter. Retro, a metallic rose gold. Sequin, a metallic gold. Smolder, a metallic smoky gunmetal. Sizzle, a metallic rosy copper, and Flare, a metallic cool bronze. And if that's not enough, there's a mirror in the palette — a must-have!
What's so cool about both of these products is that they're versatile enough for any occasion. The more neutral shades or a lighter application of the Liquid Shadows are totally appropriate for work, and you can load it up onto your lid for a more dramatic night look! Same goes for the palette, it's a beautiful everyday palette that will look radiant in every situation.
Are you on board the glitter look? These might be the perfect gateway glitters if you're on the fence! Visit Stila's website to see what wonders are in store!