Stevie Wonder had this hilarious thing to say about voting for Donald Trump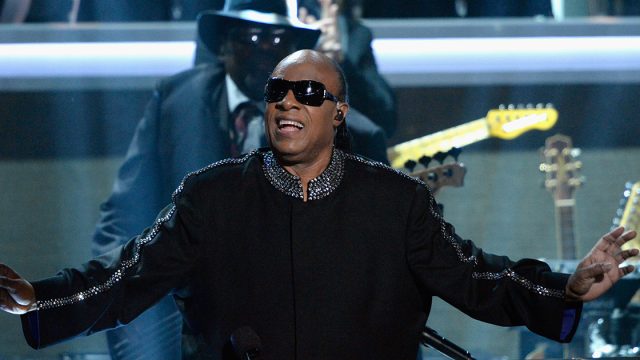 With the election being TODAY, the next 24 hours are going to be…interesting. With the polls showing that results are balancing on a knife edge, people are coming out to share their final endorsements.
Speaking to Philly.com, the music legend and multi-platinum selling recording artist said that voting for Donald Trump was like asking him to drive.
Wonder, who is blind and has previously endorsed Hillary Clinton, made the hilarious analogy, and it's the greatest put down we've read in ages.
"If you had an emergency situation and needed to go to the hospital, and you had to get there right away, would you want me driving your car? he asked the interviewer.
After being told that he wouldn't be at the top of the list, the singer had this incredible thing to say.
"Exactly. Because I'm not an experienced driver, right? So my belief is that Hillary is an experienced person of the government, and she has spent 30 years with a commitment. Not to mention that her parents taught her in a kinder way, to have respect and love for all people. That's the person I want to govern, to be the leader of this nation," he said.
Continuing, Stevie Wonder also made this important point about the elections.
The "Superstition" singer said that he'd been questioning people about how they could consider someone who speaks derogatorily about minorities and about people's looks.
"This is not a reality show. This is life in reality," he said. "So I'm with her because I believe in where we are, and where we are going to go. I have always believed that America is great. We're just going to make it greater."
Stevie Wonder, who has won over 25 Grammy awards, also spoke about what it was about Hillary Clinton that moves him.
Basically, Stevie loves Hillary because she's a fighter.
"I'm moved by her sensitivity. ... You gotta think that sometimes the world has broken her heart. And yet she's still committed," he explained. "She's still fighting for women's rights, for women's equal pay, for people of all ethnicities ... We say this is the land of the free, the home of the brave, and now there's all of this talk about building a wall? .... I think it takes a place of positivity in the spirit. So I'm really for the person who is optimistic, not pessimistic."
We have to say, we totally feel that optimism is the way to go. Also, who knew that Stevie Wonder could throw shade like the best of them?