This behind-the-scenes pic of Steven Yeun will make you laugh then WEEP FOREVER
Warning: if you have not watched Sunday night's episode of The Walking Dead and do not want to be spoiled, stop reading now! Spoilers ahoy.
Quick check in: Is everyone okay? Because, whew. The long-awaited season premiere of AMC's The Walking Dead was hard to watch — for many reasons. The episode kept us on our toes, drawing out the big reveal of who Negan Lucille'd by torturing Rick — and us — for a good part of the episode. The deaths, we knew would be hard to watch (and for some of us, hard to stomach), causing some fans to say that the episode went too far. Even though some of us had an idea of who we'd be bidding farewell to thanks to the comics, we just weren't quite ready to say goodbye to one Lucille victim, cast member Steven Yeun.
Though we figured it'd be him we'd be saying goodbye to, it doesn't mean it hurts any less.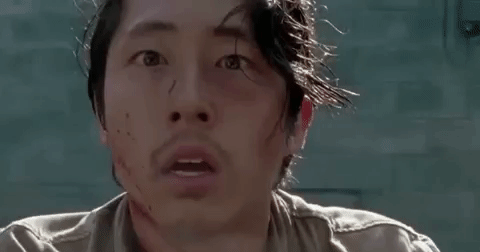 Even with cast members attempting to deflect us, we knew it was coming. We're still in a state of shock. We had to tune in to Talking Dead to get answers and hear the cast's thoughts on these gruesome deaths to get a proper send off. For those of you who don't tune into Talking Dead, here's a glimpse Steven in post-Lucille'd makeup, which is both hilarious and heartwrenching at the same time.
(If Glenn's death made your stomach turn, this may not be an image for you. It's a lot to take.)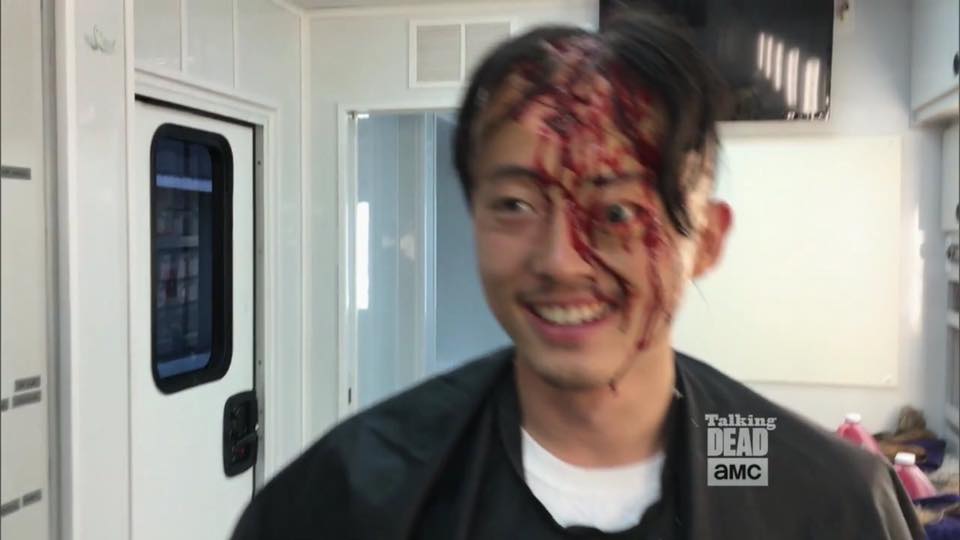 Look at his face! The contrast is almost comical. Even in gruesome and gory makeup, Steven still manages to make us crack a smile. We know this is hard, Glenn fans, and we feel your pain. So for one last time, let's savor Steven's energy and think fondly of all the close calls Glenn has had for the last 6 seasons.
We'll miss seeing this beloved member of the Atlanta Five every week. We know we're currently feeling all the things right now. Happy trails, Steven!