This congressman's team mocked Emma González for being proud of her Cuban heritage, and sadly, this is real life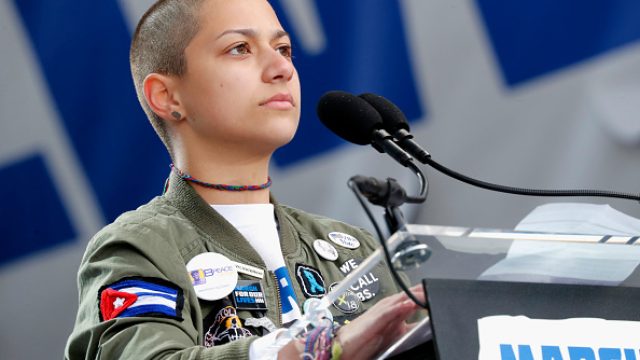 She may only be a senior in high school, but Parkland shooting survivor Emma González has already become one of the most prominent leaders of the gun control movement. But in addition to the respect González has earned as a young activist, she has also been the target of hatred. One recent meme doctored a photo to make it look like the teen was tearing up the Constitution. And on March 25th Republican Representative Steve King's Facebook page posted a meme mocking González for wearing a patch of the Cuban flag.
González, who is Cuban-American, wore an olive-colored jacket with the patch on it to the march. And King's campaign staff made it into a meme, which was posted to Facebook on March 25th. The meme's creator used González's heritage to accuse her of hypocrisy for her position on gun control, implying that, had her Cuban ancestors had access to firearms, they would have been able to overthrow the corrupt government.
"This is how you look when you claim Cuban heritage yet don't speak Spanish and ignore the fact that your ancestors fled the island when the dictatorship turned Cuba into a prison camp after removing all weapons from its citizens; hence their right to self-defense," the page wrote on an image of González crying during her speech.
But many came to González's defense.
Brandon Wolf, a survivor the Pulse nightclub massacre attacked the meme's creator for the post.
"Are you SERIOUSLY mocking a school shooting survivor for her ethnicity?!" Wolf wrote in a Facebook comment.
And Parkland survivor David Hogg called for Senator Marco Rubio, also of Cuban descent, to denounce the meme on King's page.
A spokesman for King's campaign told the Washington Post that the King for Congress page was run by King's campaign team and not the Iowa congressman. The spokesperson added that the meme was not meant to be an attack on the Parkland student's heritage, but rather show how ironic González's support for gun control was, given that she was "wearing the flag of a country that was oppressed by a communist, anti-gun regime."
By wearing a Cuban flag patch, González was expressing pride for her heritage, and by mocking her, King's campaign team displayed an unsettling level of callousness. We need our politicians to do better.