Steve is probably more lovable IRL than he is on "Stranger Things" Season 2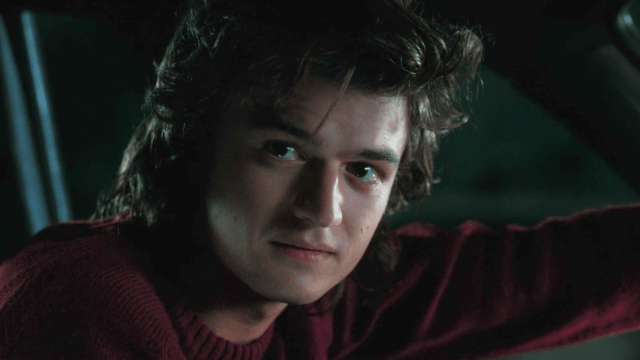 A lot of people are going crazy for Stranger Things stars Nancy and Jonathan's real-life romance. Others are quenching their thirst for Chief Hopper, but we're not talking nearly enough about how adorable and whimsical Steve is in real life. Steve (played by actor Joe Keery) was a douche during the first season but redeemed himself Season 2 as the babysitter and defacto leader of the tweens. By the end of the season, we were rooting for Steve, which is bonkers because like, we should have been rooting for Eleven to close the portal between dimensions! Le sigh, the heart wants what it wants.
The actor recently told GQ that before he booked Stranger Things, he was just a normal guy, trying to make it as an actor in the midwest.
"When I first auditioned for Stranger Things, I was just living in Chicago. Just looking for a job. Working at a restaurant, doing commercials and bit parts on shows. I honestly would have been happy booking anything," he told the magazine.
Maybe that's part of his appeal, he's just a regular dude. Apologies in advance to Millie Bobby Brown, David Harbour, Finn Wolfhard and all the other Stranger Things "faves," but Keery deserves some solo shine.
His social media presence is unparalleled — he's a true gem IRL.
The stuff he tweets is weird af, but we're into it.
He did this photo series where he and Gaten Matarazzo acted like they were always en route to some chain restaurant (but they were actually just filming scenes for Stranger Things.)
This photo should guarantee him at least one Golden Globe. false
Not only is he ~all of us,~ he's also dream date material (that's him standing alone by the rugs).
https://twitter.com/udfredirect/status/930438448397381632
He and David Harbour had this running joke where they were in a very bizarre love triangle.
"There's a Pomeranian dog on our set that is one of the makeup girls' dogs, and I fell madly in love with this dog and put a picture on Instagram. Joe would text me pictures of him and the dog in the makeup trailer, and I would get so jealous and mad and rageful," Harbour told Mashable.
false
He knows that he looks like Jean-Ralphio Saperstein from Parks and Recreation.
And, yes, his hair IS like that in real life. false
~Swoons forever~.