Steve Carell shared a piece of little-known Office trivia at a press event—and Timotheé Chalamet freaked out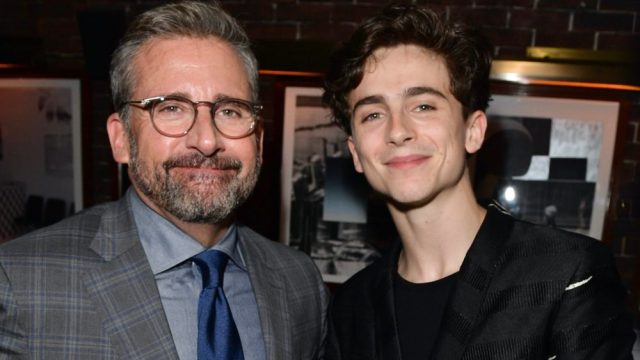 Timothée Chalamet is currently living the dream of anyone who stans The Office. The Call Me by Your Nameactor appears alongside both Steve Carell andAmy Ryan (aka Holly) in the upcoming movie Beautiful Boy, so naturally, the Dunder-Mifflin crew is coming up a lot in press interviews. And in one recent interview at the Toronto International Film Festival, Carell let Chalamet in on a secret about the The Office theme song.
In an interview with IndieWire, published on September 11th, Chalamet reminisced about watching reruns of the comedy with his dad when he was a teenager.
"I'd get on my soccer beanbag chair, and he'd lie down next to me, and we'd put on 'The Office,' and we'd watch like three, four episodes in a row, and not hit the 'skip theme song' in the beginning, and watch it each time," he said.
That prompted Carell to reveal that the cast actually voted for the TV series' now-iconic opening.
"We had four different versions of the theme song from different artists, and Greg Daniels, the producer, sent us all versions," Carell said. "And as a cast, we voted on what was going to be our theme song. It's kind of cool."
Chalamet, who is a well-documented Office fan,was apparently excited to learn this new detail. IndieWire wrote that "Chalamet's eyes lit up" when Carell shared this revelation. During the Beautiful Boy press tour, the young actor has often geeked out over being able to work with both Carell and Ryan. On September 7th, Peoplereported that Chalamet had been a bit nervous to work with the two actors.
"I will say, I had to get over the fact that I was such a huge fan and be chill about the whole thing," he told the publication. "Like, I'm totally sitting up here with Michael and Holly, but I'm not gonna go near that. That was the small little thing I had to get over."
To be honest, we'd probably feel the same way if we ever met Michael Scott.
https://www.instagram.com/p/BkgbP_2nU27
Beautiful Boy comes out October 12th. Until then, we'll be rewatching The Office, as usual.