Sterling K. Brown was played off the stage during his Emmy acceptance speech, but this is what he would have said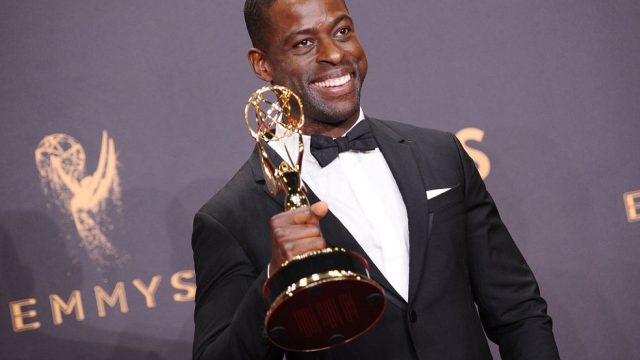 This Is Us fans know how well deserved his win was, which is probably why audience members actually booed when Sterling K. Brown was played off stage at the Emmys last night. The actor should have been given a little bit more time, but since he was cut off, he made the best of it by announcing what he would have said. And as expected, it's worth listening to.
Brown won the award for Outstanding Lead Actor in a Drama Series. As his powerful scenes brought a lot of Kleenex moments (which is to be expected, if you're familiar with This Is Us) his full speech will have you crying happy tears.
In case you missed it, here's what made the broadcast.
https://www.youtube.com/watch?v=XtOFyOfe2T4
And here's what he would have added to that.
"I wanted to thank our writers," Brown said. "A show doesn't get seven acting nominations without some impeccable, beautiful, thoughtful writing. You guys are our life's blood. So I want to thank you so much. To our producers and our directors, in particular John Requa, Glenn Ficarra and the crazy cool Ken Olin, thank you for your guidance and friendship. And I want to thank Dan Fogelman. He is the Hebrew hammer with which our house is built. He makes me laugh and cry in equal parts, and keeps me coming back for more. In his own little, small special way, he's not trying to make America great again, he's trying to make it the best that it's ever been. I love him for taking me on this journey. I wanted to thank my manager of 17 years, Jennifer Wiley-Stockton. We've been doing this for a long time, and it feels like we're just getting started. I can't wait to see what's next. To my wife — they cut me off before I got to thank my wife. You're everything. You make my life worth living, and you gave me two of the most beautiful things that God has ever put on this planet, my sons… Daddy, loves you with the strength of a thousand suns. I'll see you Monday after work. Love you."
Brown was able to complete his speech backstage in the press room.
https://www.youtube.com/watch?v=3m2ahWMC7XY?feature=oembed
Brown was up against a bunch of amazing actors, including his co-star Milo Ventimiglia — who seemed overjoyed over Brown's win.
While timing definitely means a lot where awards shows are concerned, we hope that Sterling K. Brown will have more award-winning moments ahead of him to make up for this one.