Sterling K. Brown cried his way through his "SNL" monologue, and same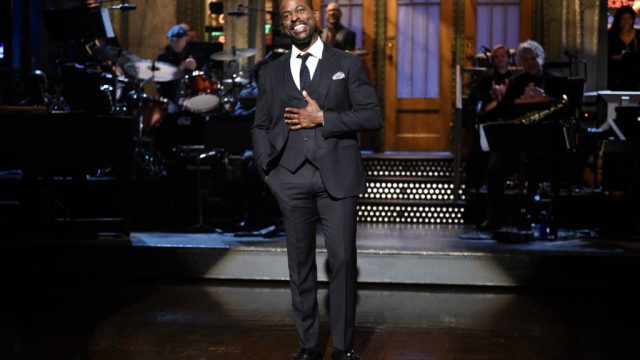 Here we go with the This Is Us feels yet again. The NBC show is known for making viewers cry at every turn. So it only makes sense that when one of the show's stars, Sterling K. Brown, hosts Saturday Night Live, there would be some waterworks.
Brown hosted SNL on Saturday, March 10th, and poked fun at the trope during his opening monologue. He's just so happy to be there, okay! The self-proclaimed "sensitive" actor tried very hard not to get overwhelmed. But it didn't work. He choked up at everything: This Is Us. Kenan Thompson. Everything.
At one point during the bit, cast member Leslie Jones appeared on stage, trying and failing to pull Brown together. "You are ruining you for me," Jones told him. Of course, then, Brown makes Jones cry by telling her she's the funniest person on SNL. (He's not wrong.)
But seriously, all those emotional This Is Us scenes are really paying off for Brown's acting career. The dude is an expert at getting fake choked up and crying fake tears. Brown also called This Is Us "the saddest thing to watch on TV besides the news." Which is a very accurate statement.
Watch Brown's tearful SNL monologue below.
We dare you not to shed some sympathetic tears alongside Brown's fake ones.
https://www.youtube.com/watch?v=xEJINSip8JU?feature=oembed
Brown is having quite a good 2018.
In addition to hosting SNL and continuing to make us sob on This Is Us, he had a role in Black Panther as Michael B. Jordan's character's father. Black Panther, coincidentally, just hit $1 billion at the global box office.
Also, Brown's impression of Kenan Thompson was spot on. We need to see him in some comedies very soon.