Sterling K . Brown is hosting "SNL," and he's already practicing his monologue in the bathroom mirror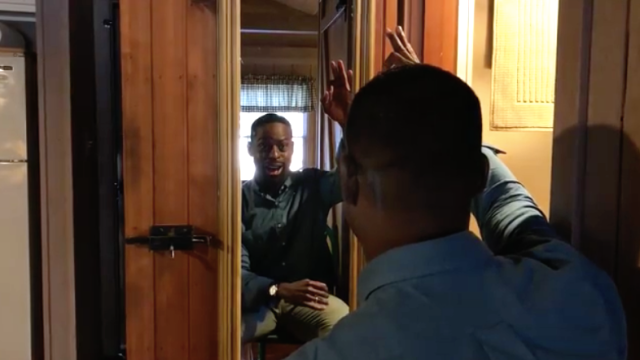 HAVE YOU HEARD THE GOOD NEWS? Wow, sorry for yelling, but this is something to yell, scream, cheer, and cry over, tbh. Saturday Night Live has announced their next slate of guest hosts, and we're getting Charles Barkley and Bill Hader fronted episodes. And also one from Emmy winner and newly crowned Disney Prince Sterling K. Brown.
YES, our favorite Pearson child — sorry, Kate and Kevin, only speaking the truth here — is set to host the March 10th episode of the show, with musical guest James Bay. This might be the best thing that has ever happened to all of us — not an exaggeration.
So now take how excited you are for this momentous occasion, and times that by like a billion. That's how excited Sterling K. Brown is to host SNL. He first re-posted SNL's announcement on his own Instagram, but now he's taken it a step further. It appears as if Brown has already started practicing his monologue…or rather, Brown is now practicing announcing his own name at the top of the show.
No one tell him that's actually Darrell Hammond's job. Let's just let Sterling have a bit of fun for a while, because his excitement is contagious.
In the video Brown shares, he even improvises his own "and the crowd goes wild" noises, before ending with the promise that "your boy is going to [throws hands wildly around in the air] have the time of his life." 
Also, please keep in mind that you can be nominated for an Emmy for SNL, which means that by hosting, Brown is now in the running to win Outstanding Guest Actor in a Comedy Series. Do you think he's going to add one more to his collection? How many "Jack's death" sketches do you think the show will do? Is he going to sing and dance during his opening monologue?? Is this the light in the darkness we all need right now? Yes.
Clear your schedule for March 10th, because Sterling K. Brown is coming to you live from New York.