Sterling K. Brown shared an illustration celebrating his Emmy nom that will *definitely* make you cry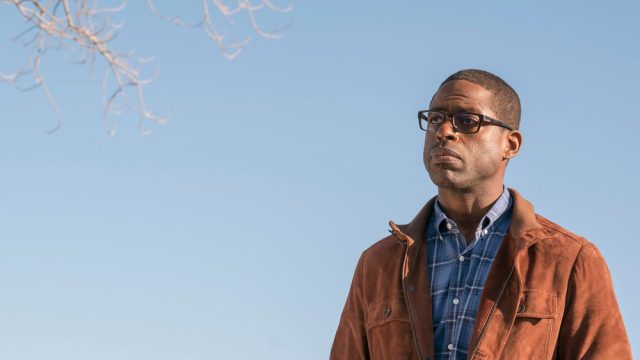 This Is Us fans, please take a long, deep breath before taking in the following news: The Emmy nominations have been released, and Sterling K. Brown is up for Outstanding Lead Actor in a Drama Series. Amazing, right?! But wait, there's more.
Brown took to Twitter to celebrate the exciting news, and posted an illustration of a young Randall, his adopted dad, and his biological dad.
BE. STILL. OUR. HEARTS.
It's all the more gutting knowing how close to home Randall's storyline has hit for Brown.
"Randall lost his adoptive dad relatively early on and is looking to reconnect with a man he's never known, Brown told People. "My dad passed away when I was very young, so the parallel for me that was most easy to tap into is that while Randall is a successful businessman with a beautiful wife, beautiful children, a gorgeous home, he has this hole in his heart because his father is not present.
His own loss, he added, actually played a significant — and often positive — role throughout his life.
"I loved my dad tremendously and he left me — in the 10 years that he was in my life — with a tremendous amount of love," Brown said. "All I can think about is how I get to pour that into my children, pour that into my work, so that's how we sort of connect."
We are so, so happy that Brown is being acknowledged for his work. Plus, he's going to be in excellent company. This Is Us is up for 11 (!) Emmys, including nods for Milo Ventimiglia, Chrissy Metz, and Ron Cephas Jones.
Mandy Moore wasn't individually nominated (huh…explanation please?), but she took to Twitter to give a shout-out to her cast mates.
We cannot wait to see what unfolds come Emmys night on September 17th. And if Brown wins, we'll probably, wait, definitely cry all over again.