Stephen Colbert took out a "For your consideration" ad so he can win Trump's ridiculous fake news award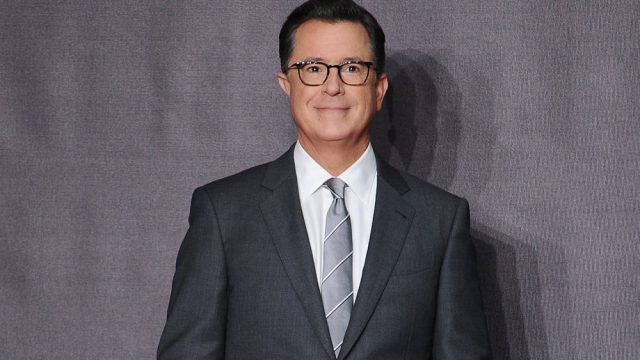 In hilarious and perfect news of the day, Stephen Colbert took out a "For Your Consideration" ad in a bid to win President Donald Trump's "Dishonest & Corrupt Media Awards." In case you missed it, on January 2nd, Trump tweeted, "I will be announcing THE MOST DISHONEST & CORRUPT MEDIA AWARDS OF THE YEAR on Monday at 5:00 o'clock. Subjects will cover Dishonesty & Bad Reporting in various categories from the Fake News Media. Stay tuned!"
In response, Colbert bought space on a huge billboard in New York City's Times Square in a bid to "win."
"Personally, I'm excited for the most dishonest and corrupt media awards of the year — or, as we call 'em in the biz, The Fakies, because nothing gives you more credibility than Donald Trump calling you a liar," Colbert told his audience. "And I, of course, don't want to get snubbed."
https://twitter.com/udfredirect/status/948359545767841792
The comedian hopes to receive nods in all categories, "including Outstanding Achievement in Parroting George Soros's Talking Points, Best Sound Mixing, Best Chex Mixing, Least Breitbarty, the Eric Trump Memorial Award for Disappointment, Fakest Dishonesty, Corruptest Fakeness, Dishonestest Corruption, and Smallest Button."
The only thing better than Colbert's billboard is his impression of Trump. Watch the full clip below.
https://www.youtube.com/watch?v=hkkNkitvTU0?feature=oembed
One thing's for sure: Colbert is serious about sweeping Trump's fake news awards. Considering The Late Show has become defined by Colbert's dedication to taking the president to task on his rhetoric and leadership decisions, he definitely deserves to be in the running.
Now all we have to do is wait for January 8th to see who takes home the honor.