Stephen Colbert brilliantly parodied Ryan Lochte's infamous 'Today Show' interview
Stephen Colbert was on hiatus during the Olympics but triumphantly returned Monday night with the best cold opening:a parody of Ryan Lochte's infamous Today Show interview with Matt Lauer.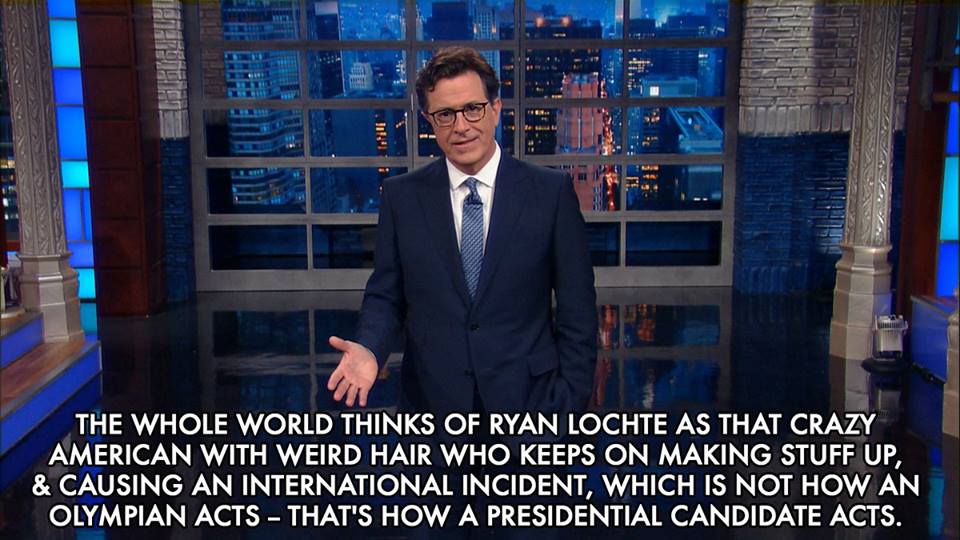 Lochte and three other U.S. Olympic swimmers claimed they were robbed at gunpoint during the Olympics in Rio. We've learned since then, the story is largely false. On Saturday, Lochte went on The Today Show to explain why lied and told Lauer he "over-exaggerated" that part of the story because he was intoxicated.
As a professional satirist, of course, Colbert wasn't going to let that explanation slide and brilliantly mocked Lochte's headache inducing responses. Colbert began the video asking Lochte how has he been handling the incident. "Laying low," the athlete says. Colbert quickly replies, "If you wanna lay low, television is the best place to do that."
Another great moment in the video is when Colbert points out that the part Lochte "exaggerated" was, in fact the whole part. "Without a gun cocked at your forehead, it's really just a story about some guys urinating on a gas station," Colbert says. "How could you get that so wrong?" Preach, Colbert.
The video is less than two minutes so I don't want to give it all away. It's so good! Watch the whole interview below.