Brooklyn Nine-Nine's Stephanie Beatriz is calling out casting directors when it comes to LGBTQ+ representation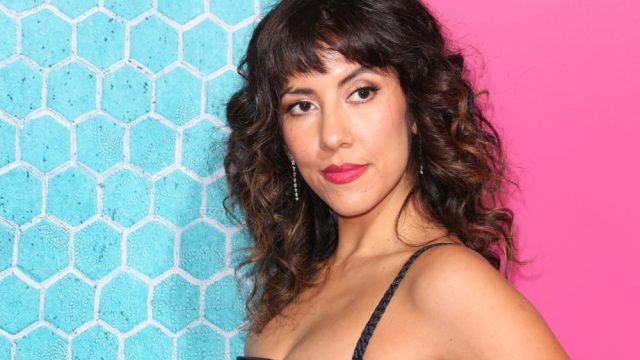 In the five seasons that cop comedy Brooklyn Nine-Nine has been on the air,we've come to know and love Stephanie Beatriz as Rosa Diaz, the precinct's sarcastic, motorcycle-riding detective. But we also admire Beatriz in real life — in no small part for her outspoken advocacy for LGBTQ+ rights (Beatriz herself is openly bisexual). And in a recent interview, she spoke up about the importance of casting queer actors to play queer characters.
Beatriz spoke to TeenVogue.com in an interview published today, July 20th. In it, she placed the onus on casting directors to do their homework when it comes to the LGBTQ+ community. She urged those in power to "do your diligence as a creator."
"If you're writing a bi character, did you look at a lot of bi actors for the role? Did you really go and find people that identified as queer?" she said. "If you did then great, and if you didn't find anyone you liked in that pool, well, that's surprising. If you write a character that's trans, the time is now — cast a trans actor. There are tons of them and they're really f*cking good.
The Brooklyn Nine-Nine star continued by noting that the "playing ground is so uneven," for LGBTQ actors, citing the fact that most onscreen characters are still straight, and gay actors have often had to conceal their sexuality to get roles.
"What I would love is for a normalization of queer characters on TV," she said. "Where that character is x, y, or z — or LGBTQIA+ — and we're just like, yeah."
Beatriz's comments seem especially topical given that cis actress Scarlett Johansson was recently cast as a trans man in an upcoming movie (although she later backed out of the project). And when it comes to playing Rosa, who came out as bisexual in the series' 99th episode, Beatriz revealed that she has always coded her character as queer.
"I think one of the things that women struggle with is, we're taught to be 'good girls.' I didn't even know what would be overstepping. But in my mind I always played [Rosa] sort of queer because it read that way to me," she admitted to Teen Vogue. "So I laid the groundwork in my acting and I made choices based on what I was given in the writing to support that. And it was very cool to see people in like, season two be like, 'Is Rosa gay?'"
We hope Hollywood is listening. The time for inclusivity and diversity in casting rooms is long overdue.