Stephanie Beatriz penned a moving essay on why marrying a man doesn't make her any less queer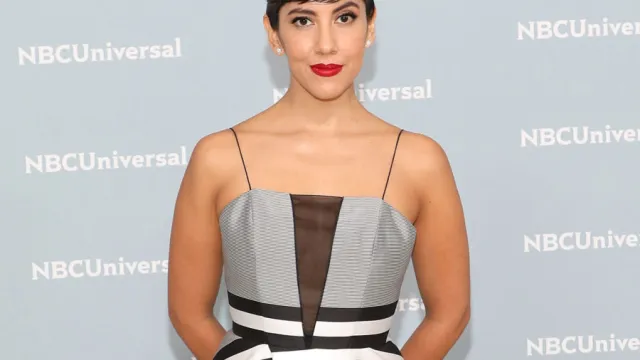 Stephanie Beatriz has penned a moving essay for GQ, and wants you to know that she is bi until the day she dies, baby. In the eloquent piece, the Brooklyn Nine-Nine actress explains why marrying a man doesn't make her any less queer. The actress got engaged to actor Brad Hoss in October 2017. 
Beatriz came out as bisexual in 2016 by sharing a tweet about actress Aubrey Plaza's interview with The Advocate, in which the Parks and Recreation alum discussed her attraction to both men and women. (Unrelated side note: How can we make a TV series with Stephanie Beatriz and Aubrey Plaza happen? Our screens would implode.)
In the GQ piece, Beatriz also explores the explanations that are often imposed onto those who are bi.
"Bisexuality often needs an explanation," she writes. "It isn't something you can often 'read' on a person, and because of that bi people sometimes feel like an invisible part of the LGBTQIA community. People's sexuality is often defined by who we're partnered with at any given moment, which can be a frustrating limitation for me.
She adds, "I've had countless tiny 'coming out' moments in my life, often simply to explain to someone else that they have misjudged my sexuality based on who they saw me dating."
Perhaps the most stirring part of her essay revolves around the internal feeling of not fitting into a specific box in terms of sexuality. This came into play during a pride parade in D.C. where she rode in a float alongside Queer Eye's Karamo Brown. 
Of the initial experience, she wrote:
"My mental saboteur screamed at me from inside my brain: 'You don't belong here! This isn't for you! YOU'RE NOT GAY ENOUGH TO BE HERE, HOW DARE YOU?'
This internal conflict sounds all too real. We cannot get over how moving Beatriz's words are, and we hope they inspire a generation of individuals finding themselves. Viewers will recall that Beatriz's Brooklyn Nine-Nine character Rosa, considered the precinct badass, also fiercely came out during the series' 100th episode.
We'll leave you with this important tidbit from Beatriz's stunning essay: "Sexuality is an intimate thing that I'm still in the process of discovering daily—that's the nature of all of our sexualities." Brilliantly said.