Brooklyn Nine-Nine's Stephanie Beatriz calls on TV cops to "condemn the murder of George Floyd"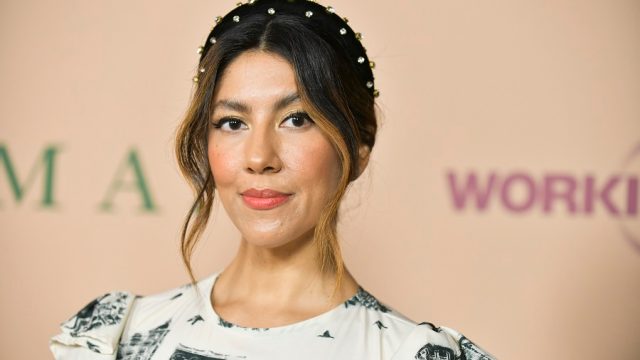 Following the death of George Floyd, an unarmed Black man who was killed by officer Derek Chauvin on May 25th—and the global protests against police brutality and systemic racism his death ignited—actor Stephanie Beatriz made an $11,000 donation to the Community Justice Exchange's National Bail Fund Network. Beatriz, who portrays Detective Rosa Diaz on the sitcom Brooklyn Nine-Nine, is urging other actors who portray cops to donate what they can, too.
"The cast and showrunner of Brooklyn 99 condemn the murder of George Floyd and support the many people who are protesting police brutality nationally," Beatriz wrote in a June 2nd tweet, along with the hashtags #justiceforGeorgeFloyd and #blacklivesmatter.
Beatriz also shared that the Brooklyn Nine-Nine team made a joint donation of $100,000 to the National Bail Fund Network, which distributes funds across over 60 community bail and bond funds throughout the country. (Some of these bail funds help to free arrested protestors.)
In a separate tweet that day, Beatriz shared that she made a personal donation of $11,000. She followed the lead of actor Griffin Newman, a former TV cop who made the same donation on June 1st.
"I'm an actor who plays a detective on TV," Beatriz wrote, echoing Newman's original tweet. "If you currently play a cop? If you make tens or hundreds of thousands of dollars a year in residuals from playing a cop? I'll let you do the math."
Beatriz was not the only cop-portraying actor (or cop-portraying-actor-adjacent) to take up Newman's call to action. A few people who played cops in high school plays; someone who "worked on a video game about forest cops stomping out fireworks"; another person who "fully funded my police department in Sim City 2000" and now feels bad about it; and yet another who "let my nephew watch a clip from Paw Patrol on my iPad" (and presumably feels bad about it) were among the many people who responded to Newman's thread with their own donation receipts.
We've never played a cop, but we may have a friend who dressed up as one on Halloween 15 years ago. Getting our wallets out now.