29 states where Donald Trump won the election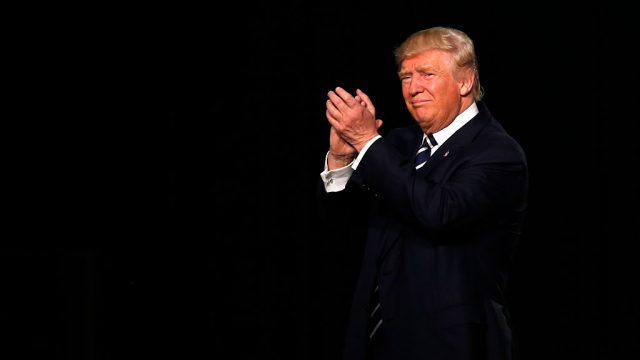 Tonight, Republican Donald Trump and Democrat Hillary Clinton are facing off for the presidency. It's been one of the most emotionally challenging and politically divisive elections in recent memory, and we're anxiously awaiting the outcome. In the meantime, we're tracking states where Trump has won the election (and keeping an eye on Clinton, too).
To win the presidency, a candidate must lock in 270 Electoral College votes (click here for a refresher on how that system works). It's going to be a long night, but we'll be updating this post as the results come in, so keep an on the electoral vote tally at the bottom of this post to find out who's close — and who's closer.
Louisiana
Electoral College votes: 8
Montana
Electoral College votes: 3
Arkansas
Electoral College votes: 6
Texas
Electoral College votes: 38
Kansas
Electoral College votes: 6
Wyoming
Electoral College votes: 3
South Dakota
Electoral College votes: 3
North Dakota
Electoral College votes: 3
Mississippi
Electoral College votes: 6
Alabama
Electoral College votes: 9
Tennessee
Electoral College votes: 11
South Carolina
Electoral College votes: 9
Oklahoma
Electoral College votes: 7
West Virginia
Electoral College votes: 5
Kentucky
Electoral College votes: 8
Nebraska
Electoral College votes: 5
Indiana
Electoral College votes: 11
Missouri
Electoral College votes: 10
Ohio
Electoral College votes: 18
Idaho
Electoral College votes: 4
North Carolina
Electoral College votes: 15
Florida
Electoral College votes: 29
Georgia
Electoral College votes: 16
Utah
Electoral College votes: 6
Iowa
Electoral College votes: 6
Pennsylvania
Electoral College votes: 20
Maine
Electoral College votes: 1
Wisconsin
Electoral College votes: 10
Alaska
Electoral College votes: 3
Electoral College vote total: 279