These states will have the hottest temperatures in the country this summer
It's going to be a hot summer, folks, but some parts of the United States are going to be much hotter than others.
If you live on the East Coast, the Gulf Coast, Hawaii, or in Arizona and parts of New Mexico, there is a big chance your summer temps are going to be way above average. 
This info comes from the forecast from the National Oceanic and Atmospheric Administration, who published a map Wednesday of the areas expecting above-average summer temperatures.
"Most of the United States is favored to have a hotter than average summer in 2017," writes the NOAA. "Only in the Great Plains do forecasters think the chances for a cool or a normal summer are equal to the chances of a hot summer. Everywhere else—from Alaska to southern California, and from Maine to Texas — odds are tilted toward well above average warmth."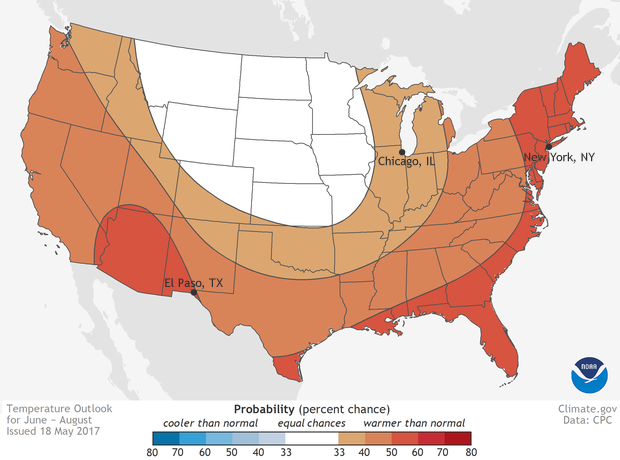 On the map, the areas in dark red indicate the highest changes (33+ percent more) of a hotter-than-average summer. Hawaii has the absolute highest chances for summer chances to climb much higher than usual.
The areas in white won't necessarily have normal or cooler summers, the NOAA explains, but have equal chances of temperatures being hotter, cooler, or average.
Basically, that means it's gonna be a warm one. Stay cool and hydrated, friends!