Stars Hollow is a winter wonderland in this behind-the-scenes "Gilmore Girls" picture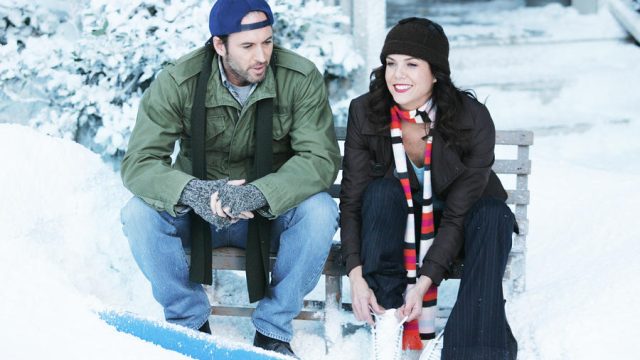 It might be March, but for Stars Hollow, Connecticut, it's beginning to look a lot like Christmas.
The Gilmore Girls Netflix revival is currently in production, and if you couldn't tell, WE ARE THE MOST EXCITED. For the last few weeks, every single day has felt like Christmas with new images and info coming out about the brand new four-episode series. Now, our xmas morning feelings are basically draped all over the town gazebo in this brand new behind-the-scenes picture.
OG Gilmore Girls producer, Stan Zimmerman, shared this recent picture of our favorite small town all decorated for the holidays. It is next to impossible to figure out what the board next to the gazebo reads, but it's probably something like, "This is the best thing that's ever happened, we love Gilmore Girls so much, Lorelai <3 Luke Forever, etc." You know, something along those lines.
The gazebo isn't the only thing getting into the holiday spirit. Another behind-the-scenes picture shows us Miss Patty's completely swept up the a winter wonderland! Look at all that beautiful (fake) snow!
Absolutely nothing about the plot can be deciphered from these pictures, but they sure are pretty to look at. Each episode will take place during one of the seasons, with "Winter" actually being first. So, could this be the ~potential~ first thing we see in the revival? Could the Stars Hollow Winter Carnival be returning for the revival, too?? Stay tuned.