Mythical-creature-drink alert: Starbucks may be about to release a unicorn Frappuccino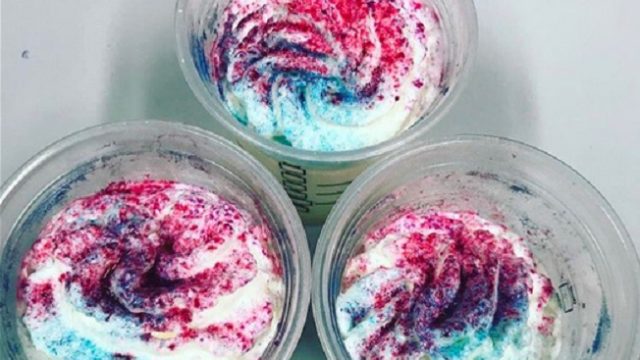 Scientific studies (it's a thing) say that the two greatest things in the entire universe are unicorns and caffeine. So it was only a matter of time before rumors of a Starbucks unicorn Frappuccino started swirling, and no, this is not a joke.
While this is complete hearsay at this point — multiple outlets, including Mashableand Cosmopolitan, have reached out to Starbucks for comment to no avail — there is a lot of evidence on the interwebs pointing to this beautiful potential addition to our lives.
The biggest? An image shared to Instagram by user Hiro Allen-Pope, showing three plastic cups full of…yeah, there's no other word to describe it better than "magic." LOOK AT THAT SWIRLY, GLITTERY GOODNESS.
https://www.instagram.com/p/BSwdyloAmnh
"If you don't believe in Unicorns, it's ok, cause the #unicornfrappuccino is coming to a #Starbucks near you. Launching 4/19-4/23!!!" the caption reads.
We know there's no confirmation on this, but we can't help be excited — especially when, as the aforementioned sources are quick to point out, there is evidence even aside from Allen-Pope's finished-product photo.
Like a mysterious pink powder user outside_the_madness posted to Reddit, asking, "Does anyone know what this is for?"
"Unicorn Frap. Should be getting some blue powder too for the same thing," ThirstMachine18 replied.
Other "evidence" shared to Reddit? A jar of purple "Unicorn Dust," which um…can we just buy that?
As far as the taste, Cosmopolitan reports that Allen-Pope wrote in an Instagram comment (that now seems to be deleted) that
"it's a cream base frappuchino with mango syrup, white mocha, and a pink and blue sprinkle, that's a lil tangy"— which seems right on par with Reddit user hellabummed's comment that claims it "tastes just like those tropical skittles."
OMG. Please let this be true, because we are so tired of sharing our Skittles and with this we can pretend to be sick so no one drinks after us.
 Again, and we stress this very highly, the whole thing is just one big rumor at this point. But if the gods of mythical creatures/caffeine shine down upon us, we will be throwing a party.
Also, no word on whether these rumored drinks would keep you alive if you're within an inch of death a la unicorn blood in Harry Potter.
We promise if we find out, we'll be the first to let you know.