Starbucks is stepping up its cold brew coffee game in a big way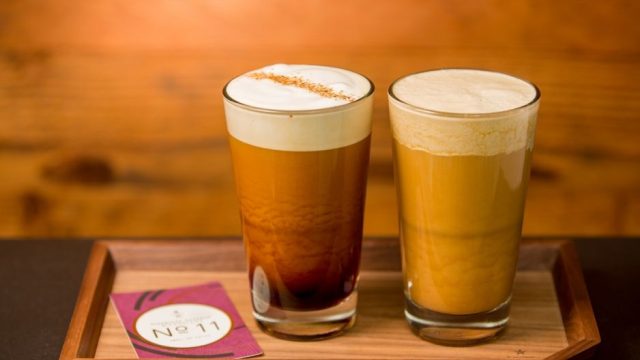 Starbucks fans, get ready. These new Starbucks nitro coffee flavors are going to treat you right. The brand has recently been expanding its higher-end Reverse brand. As a result, the company just announced two new Nitro Cold Brew coffee flavors. The flavored drinks will be offered at Starbucks Reserve Bars, which are located in cities including Chicago, Seattle, New York, and Los Angeles, as well as outside the United States.
So, what do we have to look forward to?
The Starbucks Nitro Cascara Cloud includes slowly steeped, nitrogen-infused Reserve Cold Brew. What exactly is cascara? Coffee cherries. After being poured over a vanilla bean syrup, the coffee is topped off with cold foam made with milk and cascara syrup. Sounds good, but what's it taste like? The company says it's rich and dark, like chocolate, with a taste of berry.
Sara Bennett 0f Starbucks' beverage R&D team said, "We love the idea of using cascara — part of the coffee plant — to add flavor to coffee. Cascara elevates the flavor of every coffee it meets.
That's not all. Starbucks is going to give us even more…
Starbucks is also introducing a new Nitro Dirty Chai. Blending chai with cream results in a creamy chai foam. "Dirty Chai" is a mix of coffee and tea. It's typically made as a latte or shot of espresso.
Bennett said, "Coffee and tea combine beautifully in this beverage. The warm spice flavors of the chai play well with the port-like notes of the Nitro Cold Brew."
Ready to introduce these drinks to your taste buds? Both of these new Starbucks drinks will be available beginning July 11th at select locations.