PSA: Starbucks now has a *rose gold* collection of tumblers and cups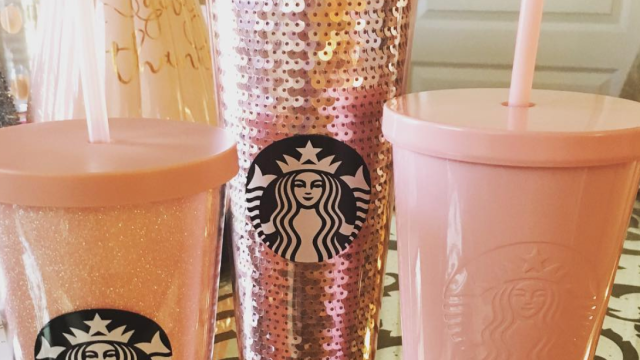 At long last, Starbucks has officially jumped on the rose gold band-wagon and it is the most magical sight you'll (probably) see all day. While you may argue that rose gold is a thing of the past, the beloved coffee chain is personally ensuring the color stays relevant for just a bit longer.
While it doesn't look like the collection has been officially announced yet, and is reportedly not available online, Instagram and Twitter users began spotting the gorgeous items — which also include a (gasp!) rose gold french press — and posting their favorites to social media.
Not gonna lie, this is coming at the perfect time because the tumbler collection, which reportedly also comes in (naturally) millennial pink, white, and silver, will definitely keep us warm — in a cool, minimalist way — as winter arrives in full effect. But if you must share, the collection will also make a glorious holiday gift because who can ever have enough rose gold? false
https://www.instagram.com/p/Bbe83NYn6jW
false
https://www.instagram.com/p/BbUxuRTn6Y7
So as you sip your Eggnog latte, Starbucks' new White Chocolate Mocha, or even trek through winter with an iced latte — if you're lucky enough to be celebrating the holidays in warm weather, of course — do it with a little rose gold in your life.
Meanwhile, if anyone's asking, we'll definitely be adding one (or all) of the rose gold tumblers to our Christmas lists because a girl can dream, right?