Starbucks is selling Pumpkin Spice Cookie straws that will turn any drink into a PSL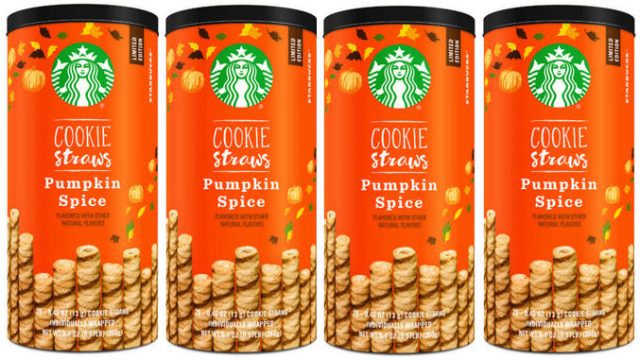 It's about this time every year that we start getting fed up with how hot it is outside and start dreaming of fall and everything that comes with it: crunchy leaves, Halloween, and, of course, pumpkin spice-flavored everything. And considering that Starbucks succeeds at satiating our pumpkin cravings year after year, we shouldn't be surprised by the newest innovation from the coffee chain.
According to Seattle ABC affiliate 6ABC, Starbucks is launching Pumpkin Spice Cookie Straws that will be sold at grocery stores in packs of 20. The site reports that the cookie packages will cost $6.99, but honestly, can you put a price on pumpkin spice goodness? From the description of the cookie straws, we already know we want to stock up.
The site says the cookies are "made from toasted, white chocolate-flavored wafers, rolled into straws and filled with white chocolate and pumpkin spices." Yeah, that's all we needed to hear to know that we're going to love them.
It's not quite time for the PSL yet, so it's good to hear that we can get our pumpkin spice fix a little early just by stopping by the grocery store. Dip one of those cookies in your morning coffee, and it might be almost as good as a real PSL—maybe even better?
https://twitter.com/udfredirect/status/1027253720415793152
There's more good news where that came from: Pumpkin Spice K-Cups are now a thing, so you can make PSLs at home any time you want. Okay, maybe it's not exactly the same as getting one at Starbucks (especially if the iced or Frappuccino versions are your fave), but it's definitely a start.
Now we just have to cross our fingers and hope that Starbucks gives us a release date for those PSLs. Early reports are saying this is happening later this month, and we really hope those rumors are true. If Halloween decorations are already starting to show up in stores, certainly we can roll out pumpkin-flavored stuff too, right?