Starbucks has a secret Pumpkin Cheesecake Frappuccino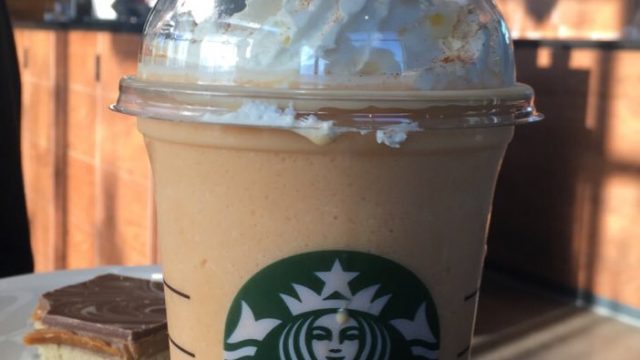 It's that time again: pumpkin time. We're not complaining, because pumpkin is delicious — especially when combined with our favorite foods and drinks. Like the Pumpkin Cheesecake Frappuccino from Starbucks. Yep, it's a thing.
Starbucks' Pumpkin Spice Latte came back into our lives on Tuesday, which we were so grateful for, but now things are really getting wild. If you're into drinking your desserts, the PCF (which hasn't caught on yet like the PSL, but it will) might be right up your alley. Since it's technically still summer, we get not wanting to dive back into a hot cup of PSL.
But if you're still craving something sweet and pumpkin-y, the PCF should do the trick.
The beverage is only available on Starbucks' secret menu (meaning a drink you can customize, but not an actual item on the menu). So when you order it, it'll feel like you're super in the know. Which you obviously are. But since it's not a regular menu item, there's a chance your barista might not know how to make it. And that's totally fine — you'll just need to tell them how. false
According to Starbucks Secret Menu, order a base frappuccino and customize it with a creme-based Pumpkin Spice Frappuccino. Add a pump of cinnamon dolce syrup, a scoop of vanilla bean powder, and a pump of white mocha syrup. Or, to skip some of the sugar, order a Vanilla Bean Frappuccino with two pumps of pumpkin syrup.
The drink should literally taste like pumpkin cheesecake, which is pretty excellent news.