Starbucks is rolling out two drinks for summer that will make coconut milk lovers very happy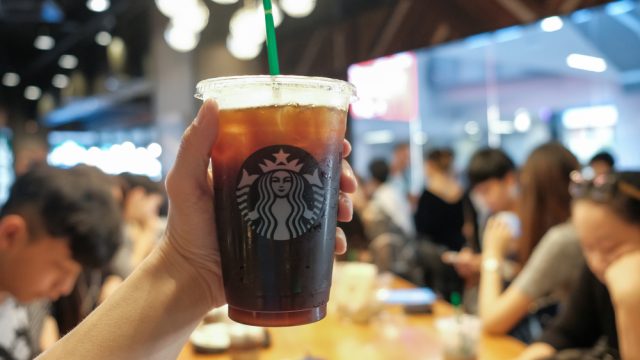 Just in time for the sweltering hot summer months, Starbucks is releasing one new drink and re-releasing another.  This is already music to our ears, and in the immortal words of Lorelai Gilmore, "Coffee, Coffee, COFFEE." But you're going to be adding new words to this coffee chant: coconut milk (COFFEE).We feel roughly 10 degrees cooler already.
First up, there's the Iced Cascara Coconut Milk Latte, which maybe, possibly, definitely has already managed to win our coconut loving hearts over. The syrup is made from coffee cherries, and it's mixed together with coconut milk and espresso. Starbucks is calling it the "light and refreshing espresso beverage perfect for summer," which is definitely the kind of drink we need.
Next, back by what we can only assume is popular demand, Starbucks will once again be serving up the Iced Coconut Milk Mocha Macchiato, which is made from espresso shots, chilled coconut milk, and white chocolate mocha sauce. That's all topped off with caramel sauce, making the drink — according to Starbucks — "five layers of espresso sweetness." Pardon us while we go (delicately) salivate.
Both are being launched on July 11th, so you should probaaaaably start planning your coffee break ASAP-ish.
By the way, if that Starbucks gift card you have is running a litttttle low at the moment, swap coffee for tea and run to your local Starbucks from 1-2 p.m. local time on July 14th for a FREE iced tea drink.
We will be accepting thank yous for this hot tip in the form of more coffee.