Starbucks is launching two new "Cold Foam Tea Lemonade" drinks, and yes, they involve milk and lemon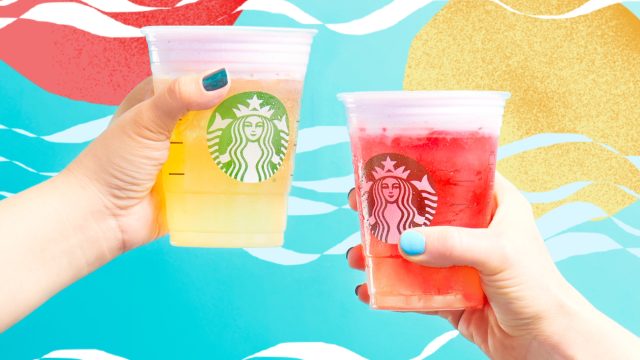 Good news, Starbucks fans: Your favorite coffee chain is introducing even more new drinks that are perfect for summer. On June 22nd, Starbucks will launch two new Cold Foam Tea Lemonade drinks, and even though these drinks contain milk and lemonade, hear us out, because they actually sound (and look) pretty good.
According to a Starbucks press release, these two new drinks — the Summer Sunrise and the Summer Sunset — will be on the menu for a limited time. Both drinks contain "a refreshing, layered combination of tropical pineapple infusion and lemonade topped with a velvety cold foam infused with sweet Teavana Passion Tango herbal tea." Um, Passion Tango tea is involved? Sign us up.
Starbucks has been using cold foam in its drinks over the last few months, and you may have already tried it on the Cold Foam Cold Brew. But this time it's fruity, and it comes on top of brand new drinks with flavors you haven't experienced yet.
The Summer Sunrise is a "tropical pineapple infusion and lemonade that's sweetened with classic syrup," while the Summer Sunset is pink, with Passion Tango tea added to the pineapple and lemonade base (and milk). And yes, both of them come with that yummy Passion Tango foam.
Both of these drinks look and sound delicious, and they're available today, so grabbing one (or both) might be the perfect way to kick off your weekend. And don't forget to Instagram it, because these drinks are just begging to be seen by the world.
Between this and the Mango Dragonfruit Refresher that Starbucks debuted earlier this week, we are living for this summer menu.