Starbucks is now putting chocolate cake on their Frappuccinos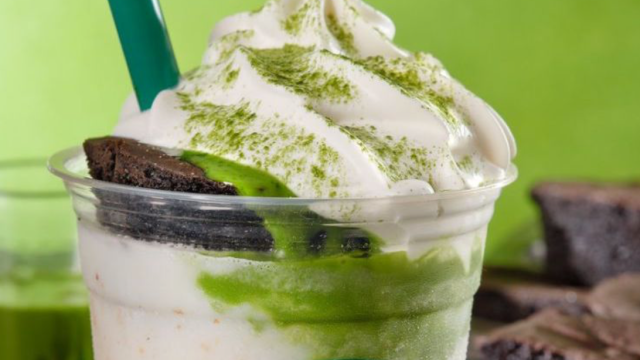 Is there anything better than a Starbucks Frappuccino on a warm, summer day? The blended drink is the perfect mix of refreshing and delicious, and our sweet tooth definitely agrees. With so many flavors, from classic coffee to java chip to the ever-elusive unicorn frappuccino, Starbucks has always been a champion at the forefront of the coffee game.
Now, the company has outdone itself by adding a chocolate cake topping to their frappuccinos. The only downside is that these flavors are only available in Japan. And yes, they're probably as delectable as you think they are.
There are two flavors that utilize the brilliant idea of a cake topping. The first is a matcha shot flavor, which comes out June 14th-July 13th. According to Popsugar, this flavor has almonds blended into the drink and is topped with a chocolate cake disk, matcha green tea sauce, whipped cream, and green tea powder.
Oh, and you're supposed to mix the chocolate cake into the drink while breaking it down with the straw. Um, yum!
The other flavor Starbucks Japan has championed is the Coffee Shot, which comes out June 23rd-July 13th. While these treats may only be available in Japan, we're crossing our fingers that they make their way stateside ASAP. And if they do, our bodies will be ready.
Until then, we'll just have to get crafty and DIY our own versions of these delicious drinks.