Starbucks is changing its holiday cups yet again, so start planning your 'gram now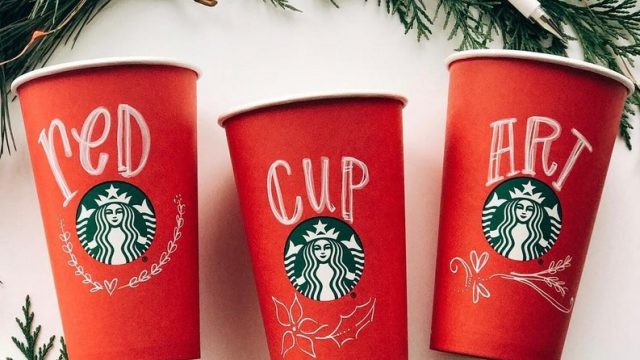 The holiday season is upon us, and that brings one of our favorite traditions: Starbucks holiday cups! On Friday, Starbucks announced it will be changing its holiday cups yet again, this season! It's like we get an extra present! Of course, every year the coffee chain is in hot water over their cup design, but, tbh, we usually love them all. Still, while most people could care less about the cup design, a small subset of the population cares way too much.
In addition to their delicious holiday menu, Starbucks likes to play around with cup design. This year — instead of their traditional holiday cups — Starbucks put forth a big series of beautifully designed cups by store customers.
We loved them, but that's not enough for the presumably caffeinated minds at Big Mermaid. For one day only, Starbucks brought back the plain red cups from last year! We're guessing this is so they can mine more excellent designs for the future…hey, you guys are paying people for these, right?
Leave it to Starbucks to turn last year's cup controversy into this year's design extraordinaire! We admit to you, SBUX, we're pretty impressed with this plan.
The most we can do is quietly Snapchat and Instagram photos of us holding the products.
https://www.instagram.com/p/BNHr6h3BBH_
Someday, maybe in the near future, we won't have to hear about controversies over cups. Until then, enjoy the holiday cups and focus on making this world a better place.