Another viral video appears to show a Starbucks manager denying bathroom access to a black man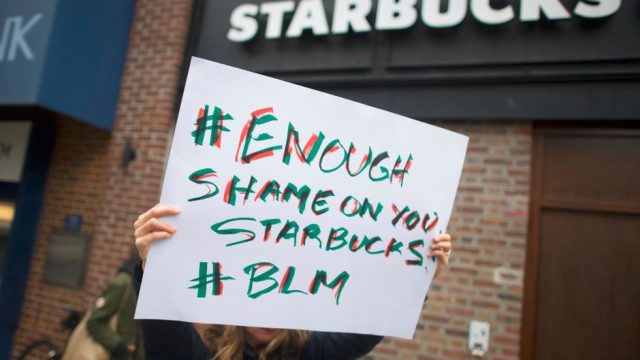 Starbucks is facing serious backlash this week after two black men, who were reportedly doing nothing but waiting for an acquaintance, were arrested at a Philadelphia location of the coffee shop. Now, another video is making the rounds on the internet and it's causing more outrage over Starbucks' apparent racist practices.
In the video, Brandon Ward documents how he, a black man, was refused access to the Starbucks bathroom before he made a purchase. He notes that a white man was given access to the restroom before buying anything.
As Ward states in the video, he's at a Starbucks in Southern California, near Torrance. The video does not show Ward being denied the bathroom code, but it does show him speaking to man, who says his name is Weston, exiting the bathroom.
Weston, who has fair skin, confirms that he was given the code and hadn't purchased anything yet. When Ward confronts the staff about this alleged biased treatment, he is escorted out of the Starbucks by security.
In an interview with Los Angeles' KTLA, Ward said that his video is from January 23rd. But he reposted it on his personal Facebook page on Saturday, April 14th after the incident at the Philadelphia Starbucks hit the news.
It gained even more traction when civil rights activist Shaun King shared the video on his Twitter account on April 16th. King, who has uses his platform to cover the Black Lives Matter movement, wrote:
"Here we go again. Meet Brandon Ward. He was @Starbucks — about to make a purchase — and needed to use the restroom. They denied him the code. He then finds a white man, Weston, who came out of the restroom. He had not made a purchase but they gave HIM the code. RACISM."
https://twitter.com/udfredirect/status/985896896433602565
As Ward explained to KTLA, he had gone to Starbucks to wait for a friend. He saw a sign that stated that the restrooms were for customers only, but he asked the employees if he could get the bathroom code and then buy something afterward.
He alleges that the staff refused his request. But after that, he saw Weston get the code to the bathroom without buying anything. So he approached Weston once he stepped out of the bathroom and recorded their interaction.
"Anyone would be baffled," Ward told KTLA. "He didn't make a purchase — this is your policy. You should stand by your policy." In the original video, Ward asks, "Is it my skin color?" about being refused the bathroom code.
Kevin Johnson, the CEO of Starbucks, has made a statement about the Philadelphia arrest. He apologized to the two men and said that the incident "led to a reprehensible outcome." Starbucks also announced this week that it will close 8,000 U.S. locations on May 29th to provide racial-bias training to employees.
As for Ward's reported incident, CNN wrote that corporate Starbucks knows about his video. "Please know that we take this video and the commentary around it very seriously, and are working closely with the team to understand more," a Starbucks spokesperson said. "As you know, we are fully investigating our store practices and guidelines across the company."
As disheartening as the arrest of the two men at the Philadelphia Starbucks is, it's bringing a much-needed light to the inherent bias that companies like Starbucks may have. And if more videos like this keep popping up, it seems that Starbucks will have a lot of work to do to change their employees' mindsets to make an inclusive and anti-discriminatory atmosphere in stores.