Forget first dance, this couple had a first *lightsaber duel* at their wedding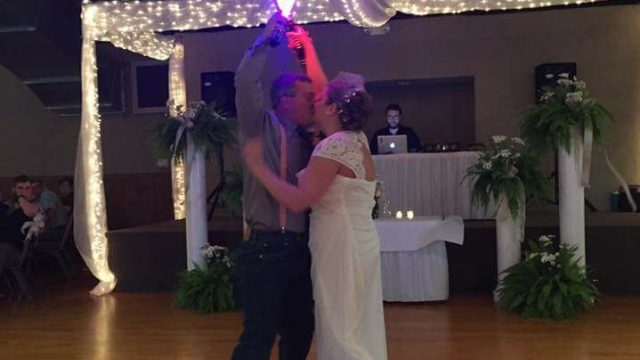 Who needs a traditional first dance, when you could have a Star Wars-themed newlywed lightsaber duel instead? That's a question Star Wars fans Jessica and Allen Bricker surely asked themselves in advance of their May nuptials.
According to Mashable, the couple kept their surprise under wraps until the day of. As for their decision to celebrate in their own, galactic way: "We wanted to get married on May 4," which of course is Star Wars day, "but Jessica's mother wasn't having a Thursday wedding, so May 6 was the best we could do."
Bricker shared a video of the battle taken in Hoagland, IN by the bride's brother, Jeremy Williams, on Facebook and gushed.
"You know your wife is amazing when she agrees to choreograph a lightsaber duel for part of your first dance!!!"
In the original post, Williams wrote, "My little sister and new favorite brother are officially nerds. They have practiced this first dance for months."
Hey, practice makes perfect — and that it certainly is. Not just because of their super sick saber skills or use of the force or decision to do it all to composer John Williams' "Duel of the Fates," but because they *make up* in the end and seal it all with a kiss. (What's more, Bricker commemorated the lip lock with his Facebook profile photo, effectively warming hearts everywhere.)
Here's another angle for good measure:
Talk about wedding goals, and wishing these newlyweds the very best!