The first footage from "Rogue One: A Star Wars Story" is here, and OMG
Star Wars Celebration kicked off earlier today in London, and it is exactly what it sounds like. It is a three-day long festival celebrating ALL THINGS STAR WARS. But it's just not going to celebrate it, though. It's also going to give us some major behind-the-scenes looks at what's coming up next in that galaxy far, far away. First up? Rogue One.
The Star Wars anthology story will be a stand-alone movie, and focus on the team tasked to steal the plans for the Death Star. The story takes place sometime after Revenge of the Sith, but before A New Hope, and focuses on Felicity Jone's kickass heroine: Jyn Erso. This is a rebellion, and she rebels.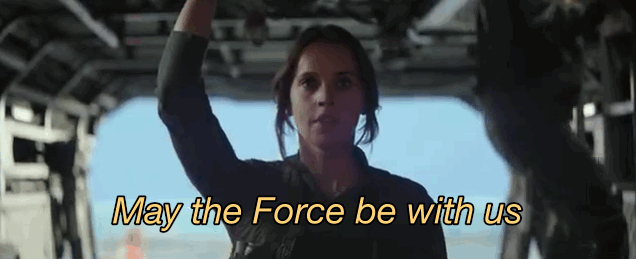 The brand-new footage revealed at the SWC is more of a featurette than a trailer for the upcoming movie. But listen, it is perfect. For everyone worried that Rogue One might actually be a hot mess, FEAR NOT. It looks amazing, and breathtaking, and everything you could have ever wanted from a Star Wars spin-off prequel.
https://www.youtube.com/watch?v=HUb_zpdyDpU?feature=oembed
While not offering up too much more information about the plot, we do get quick glimpses at a lot of the new characters, along with a new beachy Star Wars planet. Looks like a lovely place to vacation…if there weren't an all out war between the Rebellion and Empire happening in the sandy dunes.
Check out the footage above, and mark your calendars: Rogue One opens on December 16th, 2016. Only 153 days away!!