The next "Star Wars" movie will be all about how Han Solo met Chewie
You know how the story goes: Boy meets wookiee, boy becomes best friends with wookiee, boy and wookiee make the Kessel Run in 12 parsecs.
We've heard that story referenced a few times during the Star Wars saga, but now we might actually get to see it up on the big screen. According to Disney CEO Bob Iger, not only will the stand-alone Han Solo movie feature everyone's favorite walking carpet, but it's going to tell the story how these two met. You guys, we are going back to the very beginning of this beautiful friendship.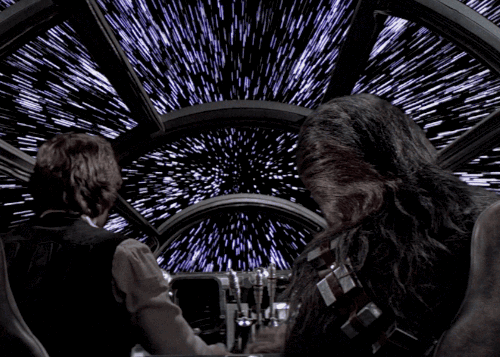 Talking at the Deutsche Bank 2016 Media, Internet & Telecom Conference, and reported by The Wrap, Iger stated that this Han Solo movie — helmed by The Lego Movie's Chris Miller and Phil Lord — will be "an origin story about Han Solo and Chewie." No other information was given about the movie, but this right here is enough to get us SO. EXCITED.
And honestly, there hasn't been much concrete information readily available about this Star Wars movie, other than the fact that it's happening, and it'll focus on a young Han Solo. It was always kinda of assumed, and we kinda really hoped, that Chewbacca would make an appearance, even if it was a quick one. But this news now confirms that Chewbacca's involvement will be MAJOR, and it will probably rewrite some of what we know about the first meeting between these two (in the Expanded Universe, most of which isn't exactly cannon anymore, Chewbacca was enslaved by the Empire, and Han Solo freed him, and they became BFFs).
Though you might be excited enough to burst right now, we've still got a long ways to go before we'll see this movie in theaters. Later this year, Rogue One will open. Following that, in 2017, the still-untitled Star Wars: Episode VIII. And then, come 2018, we'll see this young Han and young Chewie origin story, which will also hopefully include that time they won the Millennium Falcon from young Lando Calrissian, who should be played by Michael B. Jordan, which is just a suggestion if Lucasfilm is taking them.