You're going to want to rush right out and get the first poster for "Star Wars: The Last Jedi" tattooed on you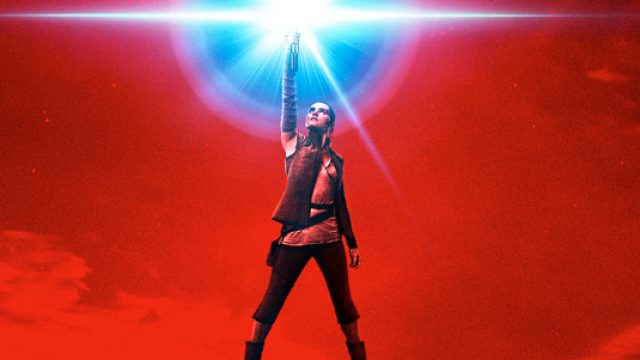 The creatives over at Lucasfilm are keeping us on our toes with all of the fun announcements coming out of Star Wars Celebration in Orlando. And in the panel for the upcoming Star Wars: The Last Jedi, they debuted the first Last Jedi poster for the film — which honestly looks stunning.
Alongside stars Daisy Ridley, John Boyega, Mark Hamill, and (the newest addition to the cast) Kelly Marie Tran, director of The Last Jedi Rian Johnson, and Lucasfilm CEO Kathleen Kennedy debuted the new film poster. It's so new and shiny, the cast hadn't even seen yet! And they were pretty psyched once they finally saw it. Just take a look:
WOW. Stunning, right?! And what's even more awesome is that all of the fans at the panel got their very own poster. Taking a look at the poster, it's pretty obvious that Rey will be the central figure of The Last Jedi and in the panel they made that clear. This film is Rey's story and we dive more into her life. But don't worry, BB-8 will still be there.
They also debuted the first teaser for The Last Jedi — playing it twice just for kicks. Looks like Luke will finally get to speak again in The Last Jedi!! Also in the teaser, favorite buds Poe and Finn are back.
https://www.youtube.com/watch?v=zB4I68XVPzQ?feature=oembed
Director Johnson confirmed that the film is in post-production and looking awesome (as expected!). Star Wars: The Last Jedi will be in theaters December 15th so there's still plenty of time to go get that Star Wars-inspired tattoo of the poster before the film premieres.