We've got a bird's-eye view of Star Wars Land at Disney World and we can't look away
Over in Anaheim, California, construction on Disneyland's Star Wars Land is coming along quite nicely. While it might be mostly piles of dirt, they're ~pretty cool~ piles of dirt because one day they will grow up to be our new favorite land at the happiest place on Earth — but it won't be our only new favorite place. Across the country in Orlando, Florida, they're also getting a Star Wars Land, and now we've got a new look at just what's happening in the Sunshine State.
Last week, we took a look at some aerial pictures of Disneyland construction, and now we've got one for Disney World, too. Once again, our friends at Nearmap have been documenting the construction from the sky at Hollywood Studios (where Star Wars Land will be located) and we're pleased to announce that everything is coming along nicely. So many piles of dirt!!
If you're looking at this picture and thinking, "OMG, STAR WARS LAND IS HUGE!" you would be correct, as this Star Wars Land will be a little bit bigger than the one at Disneyland (if only because there's so much more space to build over in Florida). But, we're not just seeing Star Wars Land construction here, we're also seeing the future home of Toy Story Land.
While Star Wars Land will be nestled down in the bottom left-ish corner of the park, up towards the middle-left will soon house all of Andy's toys.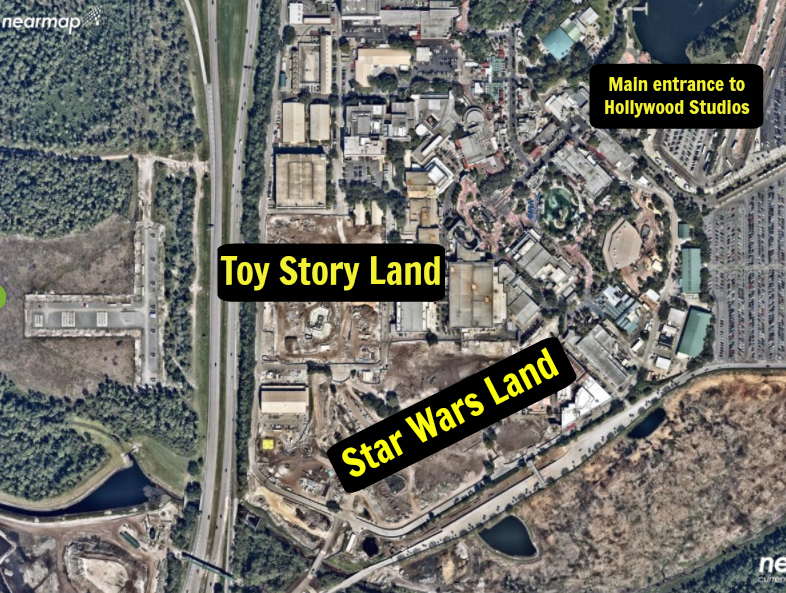 There's still no official date as to when these lands will be open in the park, but maaaaaaaybe it'll happen in 2018. And hey, that's just a short year and a month away! In the meantime, we could look at these slide-y things and Disney construction all day.