This "Star Wars" dress (with pockets!) will make you feel like a Galactic Commander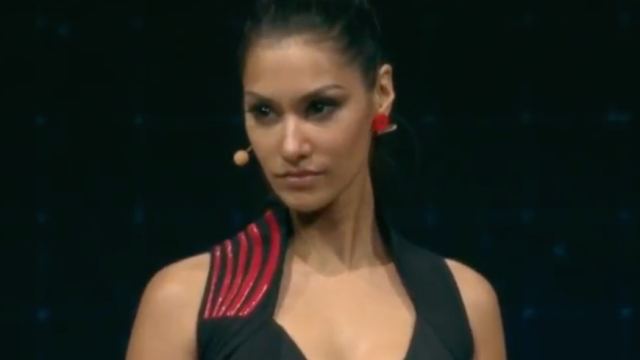 Fans of the Star Wars Battlefront game series — or Star Wars fans in general — were in for a treat at yesterday's EA E3 Play conference. Star Wars Battlefront 2 actress, Janina Gavankar, talked to fans about her latest game, which was amazing in itself. But Gavankar's Star Wars-themed dress was what really stole the show.
Gavankar wore a custom-designed dress from Elhoffer Design. The dress is inspired by her character from Battlefront 2, Iden Versio, who wears a similar black jumpsuit with five red stripes signifying her Commander title.
"I had been stalking Catherine Elhoffer, of Elhoffer Designs, for a while, on social media, and pinged her, hoping she'd have the time and interest in creating a dress that was a mashup of Iden's Imperial uniform, and a dress worthy of the world's stage," Gavankar wrote in a blogpost for Alt Found.
When Gavankar met with Elhoffer, she knew that she wanted Iden's Commander stripes and a belt designed after Iden's chest plate worked into the dress.
"Let me be clear. Every snip and stitch of that dress was handcrafted," Gavankar wrote. She said that when she and Elhoffer decided on the high-low hemline, Elhoffer cut it right there on the spot. Elhoffer also worked a modern miracle and put pockets into the dress!
Thankfully for the rest of us, Gavankar "peer-pressured" Elhoffer into making this dress available so every woman can feel like a Galactic Commander. You can fill out your pre-order details here. The dress will be available in both black and white, but stripes and belt are not included.
And because this designer dress is only $155, you might have a little budget leeway to convince your local tailor to suit you up with Commander stripes.
Take charge — Star Wars style!