We're not crying, YOU'RE crying over this "Star Wars" ad with a heartbreaking twist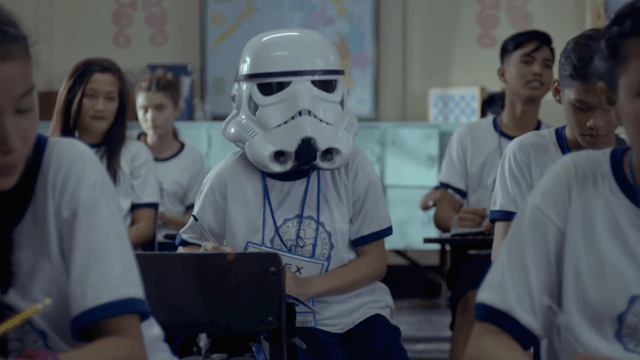 As we inch closer and closer to the holidays, it seems like all big brands out there don't necessarily want to sell us stuff, but rather, make us cry. IDK why, it's just like this new holiday tradition. Every year there's one commercial that makes us cry more than others, and we thought we had found it in the ad with the dog jumping on the trampoline and then again with the Frankenstein one. But oh boy, we were wrong, because the most heart-wrenching commercial is actually one that involves a Stormtrooper mask.
How can that make you cry? OH JUST YOU WAIT.
This ad comes to us from Globe Telecom, a telecommunications company in the Philippines. This is part of their #CreateCourage campaign, which is trying to inspire those to promote and protect the rights of women in the country (especially young girls!). Already, we love this already, and it actually gets better. This is why you need the tissues.
The video shows us this young girl who loves Star Wars, and her Stormtrooper helmet, so much she wears it every day. You're totally allowed to love something so much — even a Stormtrooper helmet! — so much that you wear it every day, but that's where the tear-jerking twist of this campaign comes in. It's too perfect to spoil, so just watch:
https://www.youtube.com/watch?v=nZC4mXaosxM?feature=oembed
Question: Are you going to be okay? Do you need a few minutes to stop bawling hysterically and get yourself together? Totally okay if you need some time. No matter how many times you watch this video, the moment the little lady takes off the helmet is TOO MUCH FOR OUR HEARTS.
Well done, Globe Telecom. If you want learn more about them, and their current #CreateCourage campaign with Star Wars, you can check that out here.
And if you need us, we'll be watching this on repeat and crying until 2017.