Turns out that "Star Wars" cantina song actually has lyrics, because J.J. Abrams just sang them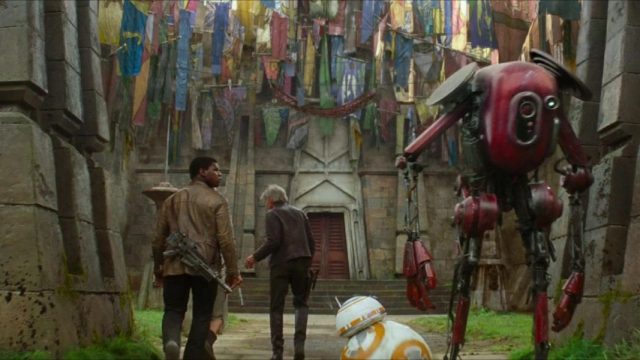 Happy May the 4th! What once started off as just a regular day in May has now morphed into the ~official~ day to celebrate all things from that galaxy far, far away. And who better to celebrate it with than the Star Wars man of the hour, Force Awakens director J.J. Abrams? Oh, and Lin-Manuel Miranda, too.
A fun fact about Force Awakens is that the cantina song that plays in Maz's bar is actually written by the Pulitzer-prize-winning-Tony-nominee Miranda. It all started off as a joke: Miranda quipped to Abrams that if he needed a cantina song, he'd write it. At the time, Abrams did need a cantina song, and a beautiful Star Wars/Hamilton crossover/friendship was born!
The two wrote the song together, and in honor of Star Wars day, have now performed it together on the streets of New York City for the Hamilton pre-show ritual, Ham4Ham. As Miranda tells the crowd, he's not just singing jibberish in the song, but actually singing real Huttese, the language of Hutts like Jabba. Even better, the Huttese can actually be translated, and the cantina song has some pretty simple and amazing lyrics:
"No lover lover, it wasn't me." 
Miranda jokes that it's like a "Shaggy intergalactic [song]." You're never going to get that imagery out of your head.
https://www.youtube.com/watch?v=7Sagk5uKEtQ?feature=oembed
These two are having the time of their life performing the song. More of this, please. Actually, you can get more of it right now, because this cantina song, actually titled "Jabba Flow," can be purchased on iTunes. Happy May the 4th INDEED.