J.J. Abrams and Quentin Tarantino might make a "Star Trek" movie together, and this sounds highly logical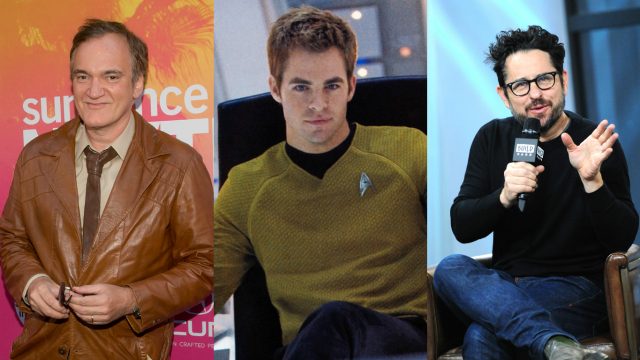 Our world is on fire and everything is falling apart faster than we can put it back together, but listen, there are some good things left, like puppies, ice cream, and whatever's coming to Netflix this weekend. Oh, and the beautiful thought that Quentin Tarantino and J.J. Abrams might make a Star Trek movie together.
Yes, you read that right. Quentin Tarantino, best known for films like Pulp Fiction, Kill Bill, and Django Unchained, and J. J. Abrams — the man behind such films like Lost, Alias, and Star Wars: The Force Awakens — just might team up to boldly go somewhere together. Supposedly, Tarantino has an idea for a new Star Trek movie, and Abrams liked it, because sometimes we can have nice things.
According to Deadline, who first broke the news, Tarantino has a "great" idea, and "the plan is to assemble a writers room of scribes who'll hear Tarantino's take and begin to put together a movie." If everything pans out, and a movie actually comes together, Abrams would produce it, and Tarantino would direct. That sounds like a brilliant idea.
However, it might still be a long time away. Tarantino is busy prepping a movie loosely based on the Charles Manson murders of the 1960s, which is slated for a 2019 release. Wherever Abrams is, he's writing the last chapter of the latest Star Wars saga, which he'll direct; that's also slated for a 2019 release. A joint Star Trek movie could still be light-years away.
But, listen, the idea of a Star Trek movie coming is better than no Star Trek movie. There was talk of making a fourth Star Trek movie with the current Starfleet crew — and a movie that would bring Chris Pine's Kirk face-to-face with his dad, George, played by Chris Hemsworth. However, that film seems like it's too good and pure to ever happen, so we might want to stop holding our breath for it.
Tarantino's movie on the other hand? It took Twitter all of about .5 seconds to freak out.
false false
Now if only we could warp speed to this movie, or at least find a wormhole that will take us there in half the time.