Live long and prosper — the "Star Trek: Discovery" trailer is finally here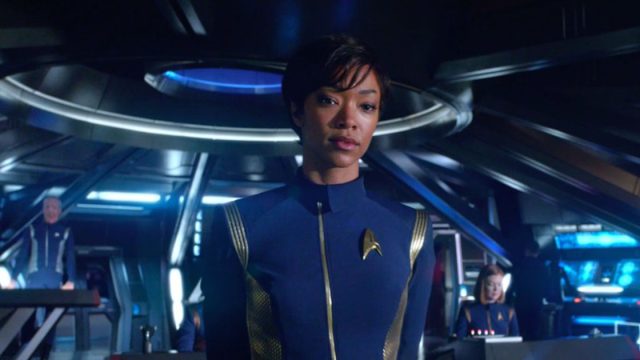 Beam me up, Scotty! The Star Trek: Discovery trailer is here, and it looks EPIC.
As far back as 2015, there was chatter about a brand new adventure into the Star Trek universe. The show was expected to premiere at the beginning of 2017 but was delayed when writing and casting fell behind schedule. At first, it was pushed to May of this year, but then it was delayed again, with a spokesperson for CBS telling The Hollywood Reporter that they felt that, due to the scope of the project, it was important "to do this right [rather] than to do it fast."
Well, after what has felt like forever, we've finally got a taster of Star Trek: Discovery, and we're totally ready to head into space.
Set a decade before the events of the original Star Trek TV series, Discovery follows First Officer Michael Burnham, played by Sonequa Martin-Green, as she is given her own ship to command by Captain Philippa Georgiou, played by Michelle Yeoh. The TV show also stars Harry Potter star Jason Isaac, as well as The Office actor Rainn Wilson.
The trailer teases a brand new starship, as we're introduced to Lt. Saru, played by Doug Jones, who is part of a new alien species that can sense death. We also get a look at the ominous threat of the Klingon Empire, which is rather exciting. It all looks pretty dramatic, and we're totally onboard with it.
Watch the trailer below.
If that wasn't enough excitement, CBS announced that they were ramping up the episode order for the new prequel TV show, too, ordering a further two episodes, taking the count from 13 to 15. There will also be a companion after-show (!), and to top it all off a brand new poster for the show was released.
Star Trek: Discovery will originally air on CBS this fall, before moving to CBS All Access. Now, live long and prosper…