The "Stand by Me" gender-swapped live read had me nostalgic for a time I've never known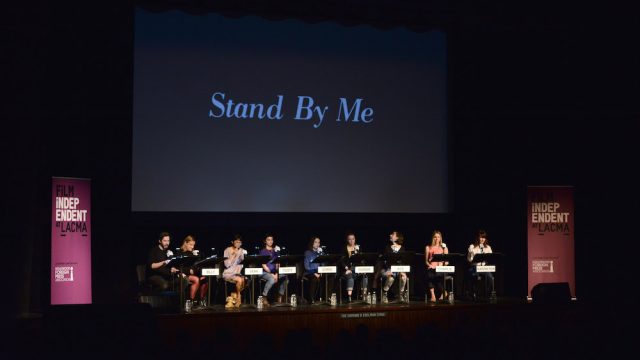 This past Thursday, director Jason Reitman got several actresses together in a room to read the script for the 1986 coming-of-age classic, Stand by Me. Based on Stephen King's novella, The Body, the film is about a group of 12-year-old boys who go off in search of a dead body. Because the movie centers around a group of rag-tag preteen boys dealing with intense issues, I was curious to see how it would be interpreted by a group of incredibly hilarious women.
In the past five years, Reitman has worked with Film Independent to put on entertaining monthly events called Live Reads, featuring script-reads of such films as The Princess Bride, Dr. Strangelove, Dazed and Confused and Network. Names of movies and the participating actors are kept under wraps until the day of the event or just before, and the event is unique in that it isn't rehearsed prior and is not recorded. This means it is truly an in-the-moment experience—something quite rare for our, everything-is-documented-on-social-media modern times. This isn't the first time Reitman did a gender-swapped version of a male-dominated film. In 2013, he presented an all-women reading of Glengarry Glen Ross that featured Mae Whitman, Carla Gugino, Catherine O'Hara and Melanie Lynskey in the roles.
Stand By Me, which celebrates its 30th anniversary this year, opens with a writer named Gordie Lachance describing a memory from the summer of 1959. He and his friends, Chris, Teddy and Vern, set off on a journey to look for the body of Ray Brower, a kid who went missing from their small Oregon town. The movie largely takes place in flashbacks, accompanied by adult Gordie's narration.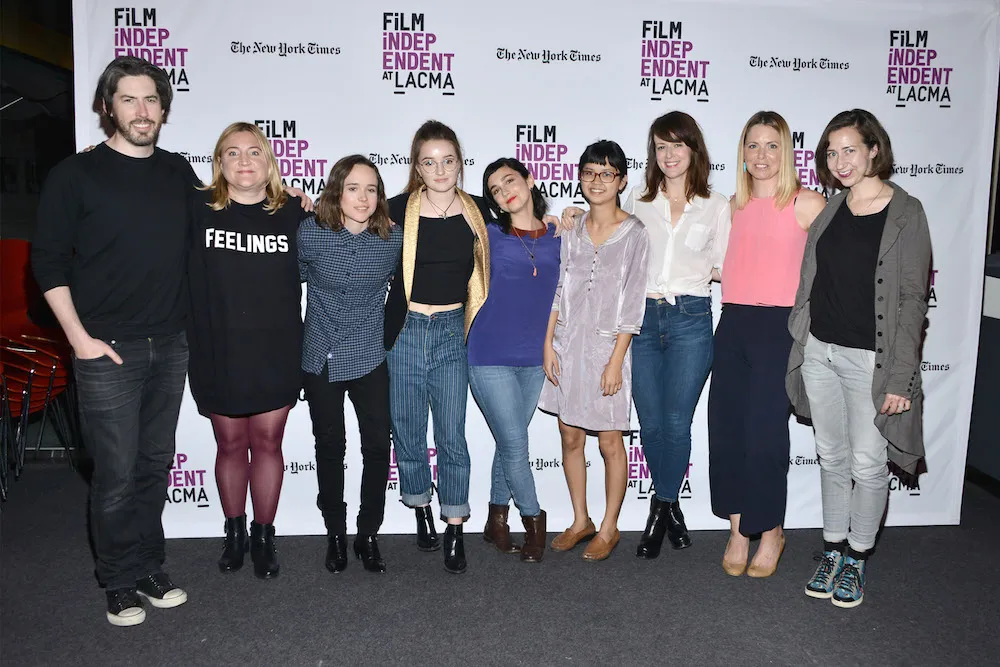 Rosemarie Dewitt, who starred in Reitman's Men, Women & Children, read the role of Gordie as a grown man, who was played in the film by Richard Dreyfuss. Kaitlyn Dever from Last Man Standing read the part of young Gordie, originated by Wil Wheaton. Ellen Page, who starred in Reitman's Juno, read the part of Gordie's best friend Chris, originally played by River Phoenix. Teddy, the snarky loose cannon played by Corey Feldman, was read by Molly Ephraim, also in Last Man Standing. Charlene Yi, recently seen in Love, read the part of goofy friend Vern, originally played by Jerry O'Connell.
While Dever perfectly depicted the quiet strength of Gordie, an aspiring writer dealing with the aftermath of the death of his older brother, Page beautifully nailed the maturity and awareness River Phoenix had given to the role of troubled Chris. It was flawless. Then there was Ephraim, giving life to the role of the volatile Teddy, while Yi captured the awkward essence of loveable halfwit Vern. Of course since this was a reading, the four women did not act out the movie in a physical sense at all. Still, they played the roles so perfectly, you could almost imagine them walking together on the train tracks, playfully insulting one another and giving each other noogies.
The boys deal with a rival gang called the Cobras, whose parts were read by another group of excellent women. The Last Man on Earth's Kristen Schaal played the gang's leader Ace, who was originally played by a terrifying Kiefer Sutherland. Collette Wolfe from You're the Worst read the role of fellow gang member Charlie, played by Gary Riley. Finally, there was writer and actress Sarah Thyre as Billy, originated by Casey Siemaszko. Thyre lent her voice to several other characters in the live read, giving them all a very distinct and hilarious tone. She might have been my favorite part of the entire show.
Before introducing the actresses, Reitman described Stand by Me as a movie that makes you nostalgic for a time you didn't personally experience. I couldn't agree more. When I was a kid, I was obsessed with the film especially because I loved movies about a group of kids going on an adventure and getting into mischief. If you haven't seen Stand by Me, but are a fan of The Sandlot, you'll find similarities between the two films, except the characters of the first one deal with more intense issues. Both however, have a funny scene involving a seemingly vicious junkyard dog.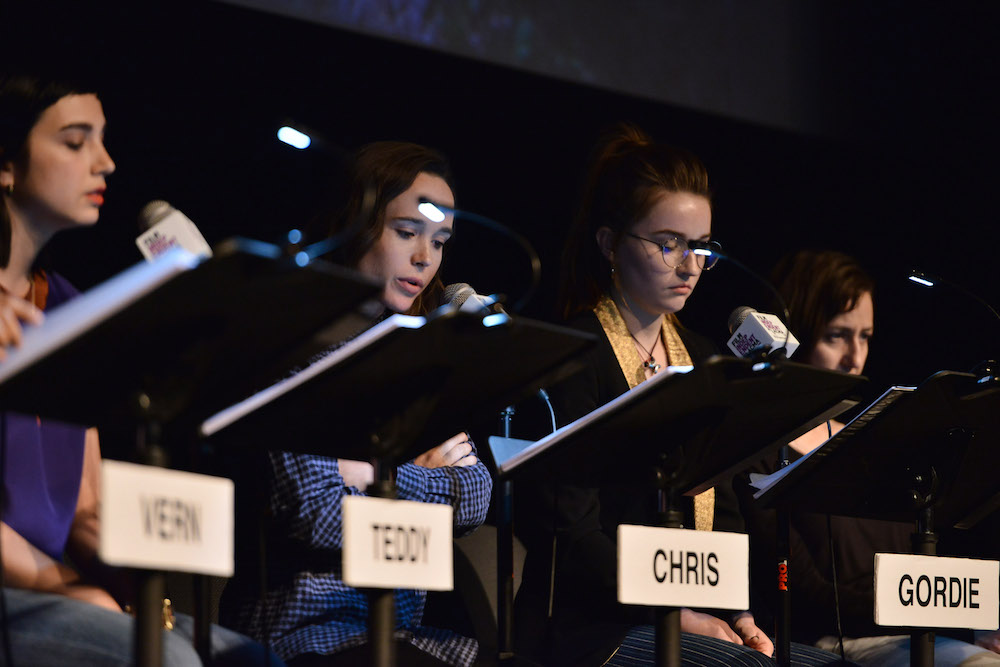 The soundtrack, filled with doo-wop hits from the 1950s, is an important aspect as the boys sing tunes throughout the film. It was heartwarming whenever the actresses would sing the songs in unison. One thing I was curious to see in regards to the gender role reversal is how the movie's arsenal of dick jokes and non-pc references to "tits" and "balls" would play out. It was pretty hilarious, but I'm not completely sure whether this movie could be made now.
Some choice quotes:

Vern: Do you think Mighty Mouse could beat up Superman?
Teddy: What are you, cracked?
Vern: Why not? I saw the other day. He was carrying five elephants in one hand!
Teddy: Boy, you don't know nothing! Mighty Mouse is a cartoon. Superman's a real guy. There's no way a cartoon could beat up a real guy.
Vern: Yeah, maybe you're right. It'd be a good fight, though.
Vern: What am I supposed to do, think of everything? I brought the comb!
Teddy: Oh, great! You brought the comb! What did you bring a comb for? You don't even have any hair!
Vern: Geez, Gordie. Why couldn't you have gotten breakfast stuff? Like Twinkies and Pez and Root Beer?
Gordie: Sorry, Vern. I guess a more experienced shopper could have gotten more for your seven cents.
In The Virgin Suicides, there's a scene where a young Cecilia, after a suicide attempt, is told by her doctor she's not even old enough to know how bad life gets. She replies, "Obviously, Doctor, you've never been a 13-year-old girl." I feel like that quote can also be gender-swapped, for Stand by Me. The characters go through so much hell at their young age and the adults in their lives really have no idea.
The writing is so brilliant and each woman did such an amazing job, sometimes I'd forget that I was watching performances originally created for boys. I also admit there were a few times my eyes got misty, as if I were watching the actual movie. Luckily, it was dark in the theater and no one could see my sweaty eyes.
If you haven't seen it, put Stand by Me on your to-watch list, STAT. And if you can, I highly suggest you get to one of Film Independent's Live Reads sometime!