In a sea of Netflix true crime series, The Staircase might be the most compelling of them all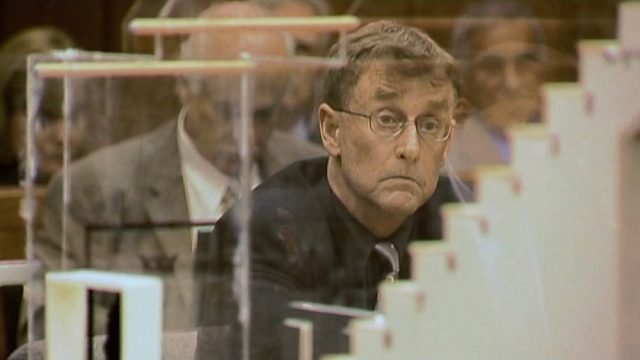 Another day, another true crime documentary series to lose ourselves in. To add to its ever-growing collection of engrossing true crime narratives, Netflix just debuted the Peabody Award-winning series The Staircase. But unlike their previously released true crime stories, like The Keepers, Making A Murderer, and Evil Genius, this one is a continuation of a story revolving around an age-old criminal case.
The Staircase chronicles the murder trial of novelist Michael Peterson, who was accused of murdering his wife Kathleen after she was found dead at the bottom of the staircase, surrounded by a pool of blood, in their Durham, North Carolina home in 2001. French filmmaker Jean-Xavier de Lestrade created an eight-episode documentary about the case, which eventually led to Peterson's incarceration. The series was released on French TV in 2004, and eventually gained international success and acclaim.
Peterson was released from prison in 2011, when it was revealed that a witness had given a misleading testimony during the trial. With the latest developments, the docu-series was revived and updated with new material, resulting in an additional two episodes. And now, thanks to Netflix, the series has been stretched to a total of 13 chapters, making it extra enticing for true crime fans.
Dubbed the father of modern true crime, The Staircase has no shortage of mindboggling twists and turns that will surely keep you up at night. Without giving too much away, it will have you wondering who was really responsible for Kathleen's gruesome murder, especially when you find out that Peterson had been involved in another staircase incident that happened 18 years before his wife died (!). It was also revealed that he was having extramarital affairs, and, well, you have to watch the entire series if you want to know the rest.
Watch the haunting trailer below:
https://www.youtube.com/watch?v=Bvv97sCcruY?feature=oembed
All 13 episodes of The Staircase are now streaming on Netflix. Cancel your plans for the weekend and get your binge on.