These Flannel Slippers Are My New Favorite WFH Shoes
In the months since the coronavirus (COVID-19) pandemic began, my wardrobe has shrunk to a fraction of its size. It's not that I've literally gotten rid of all my stuff—it's just that when your days consist of working from the couch, walking the dog, and doing the occasional Zoom hangout, it turns out you don't really need much more than sweatpants and a few T-shirts. Since mid-March, my once-beloved jewelry has barely been touched, my summer dresses have stayed in the closet, and as for my shoes? Most of them have gathered dust, because the only pairs I put on these days are my sneakers for running, my sandals for errands, and my new Staheekum flannel slippers for walking around the house.
Normally, I'm not much of a slipper girl; I typically prefer to go barefoot or, on a particularly cold day, sport a pair of fuzzy socks when I'm hanging out at home. But these are not normal times, and spending so much time indoors over the past few months has made me really appreciate the value of a good slip-on shoe—especially because living with a dog, a cat, and another human means there's always a lot of hair on the floor ready to get stuck to unshod feet (yuck). So when I was sent the Women's Eden Flannel Slipper from Staheekum, I was very down to give them a try.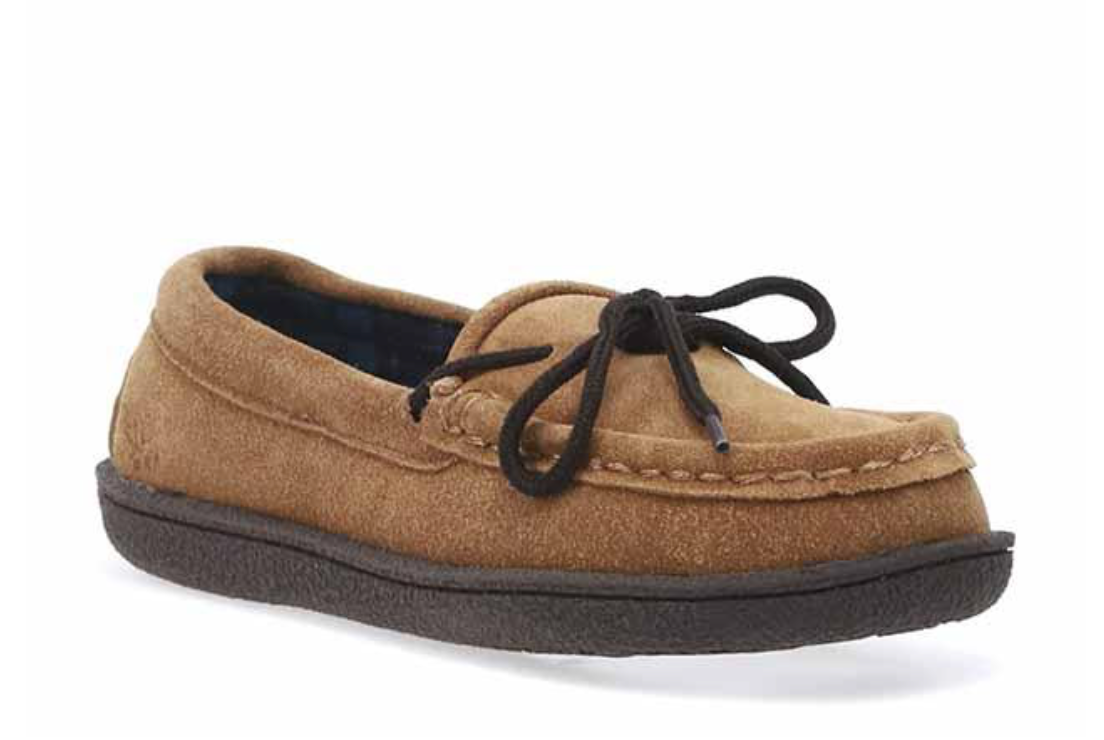 Shop it! $22.48, [tempo-ecommerce src="https://www.nordstromrack.com/shop/product/3061537/staheekum-eden-suede-flannel-loafer?color=WH" title="Nordstrom Rack" context="body"]
The shoes looked like they would be super comfortable, with plaid flannel lining and a memory foam insole, and that's exactly what they were. My inaugural slipper-clad trip from the bedroom to the living room went off without a hitch, my toes happily nestled into their cozy new homes. Staheekum says on its site that the flannel is a lighter alternative to shearling, and while I don't have a pair for comparison, I can attest after several wears that these shoes never make my feet feel too exposed or too overheated. They also have a thick rubber outsole, which means they're good for wearing outdoors, but for my purposes, at least, they're destined to live out their little lives in the confines of my apartment.
What I like most about these slippers, though, is that just by existing, they're doing some good in the world. For every pair of shoes sold, Staheekum plants a tree in Africa through the organization Trees for the Future, which works to revitalize lands in developing communities in order to improve farmers' livelihoods and strengthen the environment. Plus, Staheekum's shoe boxes are made of recyclable natural cardboard, paper tape is used to seal them shut, and all single orders ship in their own boxes rather than in bigger boxes that you're just going to throw out. What's not to love?
If you want to buy the Eden slippers that I have, they're [tempo-ecommerce src="https://www.nordstromrack.com/shop/product/3061537/staheekum-eden-suede-flannel-loafer?color=WH" title="on sale at Nordstrom Rack for just $22.48″ context="body"] (they're normally $40), but [tempo-ecommerce src="https://www.amazon.com/stores/page/17C98756-279F-41DF-9C4C-C6C1D2527B4D/ref=as_li_ss_tl?ie=UTF8&linkCode=ll2&tag=hgfasflannelslippersnewfavoritewfhshoersimonjun20-20&linkId=21e38b4562cf54f54a24c78db8fe49c7″ title="Amazon has some other options" context="body"] if you're looking for a bigger selection. Staheekum is also currently offering 20% discounts to frontline workers, teachers, members of the military, senior citizens, and disadvantaged populations that can be applied to orders made on the brand's site. Now that's a company we can support.