Clueless's Stacey Dash was arrested for domestic violence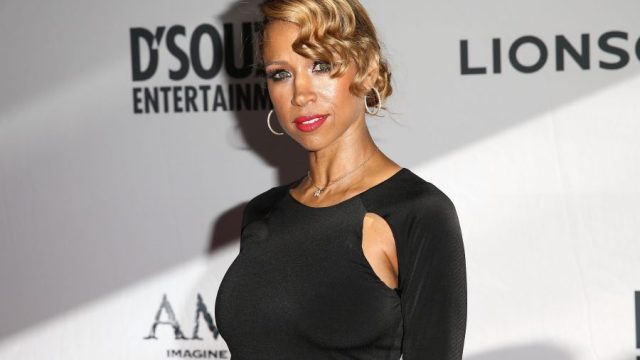 Trigger warning: descriptions of domestic violence are included in this article.
According to TMZ, Clueless star Stacey Dash was arrested for domestic violence on Sunday, September 29th, in Pasco County, Florida, and here's what we know.
Law enforcement reportedly responded to a 911 call made by Dash after a domestic dispute with her husband of one year, Jeffrey Marty. Marty's three children were allegedly present during the incident. In released audio from the call, Dash can be heard describing what happened.
Dash claims her husband put her in a "chokehold," and TMZ reports that when police arrived to the scene, Marty had visible scratches on his arms. Dash was taken in to custody, where she was held on $500 bail.
TMZ also released a body cam video from the arresting officer, showing Dash being escorted off the property in handcuffs. The officer asks Dash what she does for a living and she tells him she's an actress who starred in Clueless, also revealing that she's "in politics," serving as a Fox News contributor.
Dash reportedly maintains her innocence, claiming that Marty attacked her first and she acted in self-defense, and that she was arrested because she didn't have any visible marks on her body, while Marty did.
https://www.youtube.com/watch?v=ftn96ay4pZM
Her manager, Sean P. Jackson, confirmed this to People in a statement. He said, "Stacey actually called the police because she was attacked by her husband. He choked her and she was defending herself. When the police arrived, they couldn't see any physical marks on her, but they did see them on him."
Jackson added that police later saw marks on Dash's neck during a medical evaluation.
In a statement, Dash's representative told People that she and her husband had a "marital dispute" at their home, adding, "No charges were pressed by her husband, however, deputies arrested Ms. Dash peacefully, as a formality. Ms. Dash's husband appeared in court today, September 30th, on her behalf and Ms. Dash was released from the Land O' Lakes detention facility. No further legal action is pending."
https://www.youtube.com/watch?v=eRZsdE5hm0o
The rep called the TMZ reports "blown out of proportion," adding, "Ms. Dash is a domestic abuse survivor from a previous relationship and has championed for other abuse victims to speak up.The untruthfulness being reported saddens Ms. Dash and her family — no further comments will be made and we ask that Ms. Dash and her family's privacy will be respected."
While it certainly seems like there's more to the story than initial reports can show, we hope all parties involved are able to come to a peaceful resolution that is safe and healthy for all.