Stacey Abrams' victory speech will give you chills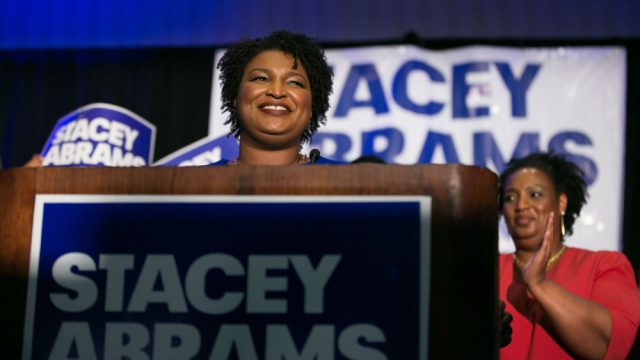 Yesterday, Tuesday, May 22nd, candidate Stacey Abrams made history by winning the Georgia primary election for governor, which means she's now in the running to become the first female African-American governor in U.S. history. And Abrams' victory speech will give you chills.
Abrams is a graduate of Yale Law School, and has paved the way for African-American women in politics for decades. She was the first black woman to lead the Democrats in the Georgia House of Representatives as House minority leader, and she founded the New Georgia Project, a nonprofit org that helps people of color register to vote.
Abrams has spent her time as a candidate advocating for Medicaid expansion, stricter gun control laws, and increased access to affordable housing. Many predicted Abrams would win the primary because of how hard she worked to engage communities of color, particularly black communities, in the election.
In her victory speech, Abrams said,
"I'm running because I want every Georgia family to have the freedom and the opportunity to thrive. You deserve nothing less, and I know Georgia can deliver a whole lot more."
She also acknowledged that, despite this major victory, there's still a lot of work to be done before she can claim the title as Georgia governor. Abrams said, "We have to reach out to those who do not believe their voices matter," and spoke about the importance of voter registration — especially among historically disenfranchised groups. She added,
"We are writing the next chapter of Georgia's history, where no one is unseen, no one is unheard and no one is uninspired."
Abrams also quoted The Book Of Esther, which is part of the Hebrew Bible. The Book of Esther tells the story of Esther, a Hebrew woman in Persia who saves the Jewish people from genocide. The story is read during the festival of Purim, the anniversary of a critical Jewish victory over those who tried to oppress them. In her speech, Abrams quoted, "We were born for such a time as this." You can watch her inspiring speech in full here:
https://www.youtube.com/watch?v=TMxcwqmvTBg?feature=oembed
This is just the first major step for Abrams; Georgia is a notoriously red state, so victory for any Democrat will be a challenge come November. Either way, Abrams is breaking barriers and paving the way for change — win or not.