Meet Stacey Abrams, the woman who may become the U.S.'s first black female governor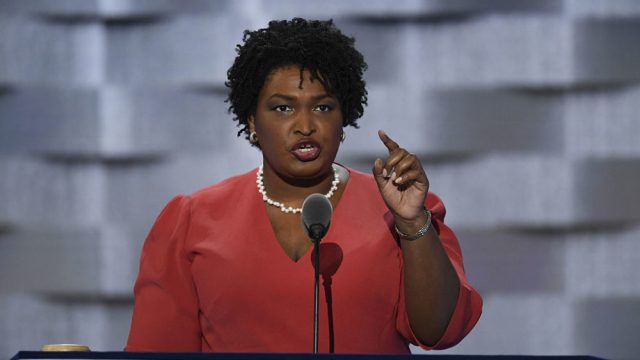 The 2018 midterm elections may not be taking place until November, but they already have the potential to make history. In Idaho, Democratic candidate Paulette Jordan could become the first Native American governor in the country, and in New York, Cynthia Nixon is vying for a chance to become the first openly LGBT governor in the state. Today, May 22nd, Georgia's primary election for governor will take place, and Stacey Abrams could become the first black woman to hold the title.
Abrams previously served as House minority leader in the Georgia state legislature. According to her website, she was not only the first woman to lead a political party in the state's government, but also the first black politician to hold a leadership role in the House. She also attended Yale Law School and helped found the New Georgia Project, a nonprofit organization dedicated to helping people of color register to vote. In addition to her political career, Abrams wrote several romance novels under the pen name Selena Montgomery.
As a candidate, Abrams has advocated for Medicaid expansion, criminal justice reform, stricter gun control laws, and increased access to affordable housing, among other issues. Both Abrams and her opponent, state Representative Stacey Evans, would be Georgia's first-ever female governor if elected. According to 538, Abrams is the favorite to win the primary, with the two most recent polls giving her a 20-point lead over Evans.
But winning the general election may be difficult for either woman. The last time the state had a Democratic governor was over 10 years ago. Rather than trying to win over moderate voters, Abrams has focused her campaign strategy on reaching out to minorities and women, as well as frequently overlooked rural Democrats.
"We cannot win by pretending to be something we are not," she said in an interview with CNN. "My mission is to demonstrate that if we bring everyone to the table we can win."
Abrams' election would be historic for the entire country, but regardless of whether she wins or loses, it's exciting to see so many women (and particularly women of color) running for office. If you live in Georgia, don't forget to vote in today's primary election!